Zagreb - the capital of Croatia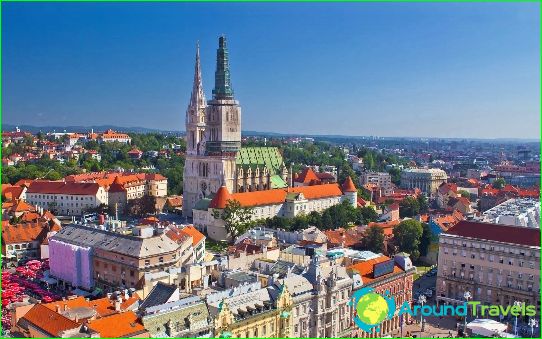 The capital of Croatia, Zagreb, for the first timementioned in chronicles dating back to the seventh century. At that time, Zagreb was just a small settlement, later overgrown to the great city. Modern Zagreb retained a huge number of medieval attractions, so walking around the city are surprisingly entertaining.
Gallery Strossmayer
Here you can admire the paintings thatIt was donated to the city by Bishop Strossmayer. In general, in the gallery, there are four thousand works, but the exposure is only 250 paintings. The rest of the works are either in storage or on display in various museums of the city.
Gallery was established in 1860 and in 1880I moved to purpose-built premises. For many years she has expanded, acquiring more and more pictures. Thus, in 1934 it led to the establishment of the Modern Art Gallery, which holds the originals later works.
Museum of Broken Hearts
The museum is dedicated to a failed love. Exposed collection is constantly updated, as people wanting to get rid of the reminders of the failure of love, send a variety of little things. This is a different trinkets, postcards, keychains, wedding dresses and other things that hold unpleasant memories for the person. Each exhibit has a history that can be read on the attached sheet.
Church of St. Catherine
It is the most beautiful church in Zagreb. You can find it while walking on top of the city. Beautiful cathedral in the Baroque style was built in the XVII century. Of particular note is the magnificent facade. No less admiration cause and wooden baroque altars, but the main highlight of the church - the interior, harmoniously combining magnificent frescoes and a large number of statues. The cathedral was completely burned twice, but the efforts of the local nobility was restored again.
Palace Oršić-Rauch
Another attraction of Zagreb,Made in the Baroque style. The palace is quite a long time served as the residence of the noble families of the country. At the moment, the building belongs to the city, as the last of the owners sold it in 1930. Initially it housed the office of the mayor of the capital. But in 1959, he settled here History Museum. The museum exposition is represented by exhibits of different eras. You can view a collection of old maps, coins and documents.
Fortress Medvedgrad
The castle is located in the suburbs of the capital. fortress architecture is very different from the attractions of the city. Historians explain this fact as follows: it is believed that the construction of the fortress was completed well before the XIII century, when Zagreb was captured and destroyed by Tatar-Mongols.
Travel to Zagreb
Photo