Coast of Croatia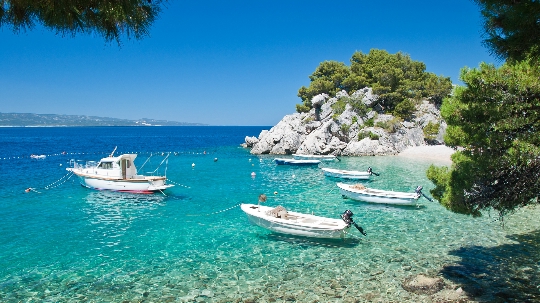 Croatian coast has a length of 5700 km: many travelers here beckons clear sea, surrounded by pristine nature.
Croatia resorts on the coast (the benefits of rest)
In Istria you will be able to join theEcotourism (there is a lot of natural resources, paved trails for hiking and biking trails), relax on the pebbly, rocky or concrete beaches with artificial platforms. In South Dalmatia you will wait for the mountains and islands, wine tasting, "Postup" and "Dingac", a variety of beaches (the resorts of the region are suitable for hanging out with the kids), and in Central Dalmatia - small-pebble beaches and Kornati National Park.
Cities and resorts on the coast of Croatia
Porec: here you can see the Euphrasian Basilica, remains of the North Tower of the XV century, the ruins of the temple of Mars; volleyball and water polo on the beach Gradsko Kupaliste; a fancy beach Brulo Beach (for a fee you can rent a sunbed and umbrella, and a snack at the beach located around restaurants and bars); play mini golf and tennis, ride on a catamaran, sit in a cafe, while the children have fun in the gaming areas, Borik Beach on the beach; cycling tour to Baredine cave; admire the collection of the inhabitants of the underwater kingdom in an aquarium in Porec; have fun in the water park, 4 km from the city center (like visitors slide down slides, swim in the wave pool, amusement "Catapult" and "lazy river").
Dubrovnik: the city offers to get acquainted with an interesting history, having gone on a fascinating virtual tour of the museum "Visia 5D Multimedia Museum", to look at the sea of ​​representatives of the Adriatic Sea (moray eels, green and brown lip seahorses) in the aquarium of Dubrovnik, a fancy beach Banje Beach (it is divided into 2 part, so will be able to rest or on its sandy, paid or a free, pebble area, as well as water polo and mini-football or spend time in the East West beach Club beach club) or Copacabana beach (daily rest - riding hydro-bikes, rolling in the sea with water slides, kayaking and parasailing, and evening pastime - fun in discos beach bars).
Rovinj: visiting the city will be able to explore the Palace Califf, visit the aquarium, as well as the beaches of "Lone" (you can rent a catamaran, a boat, windsurfing equipment) or "Monte" (it is divided into several parts, such as for swimming with small children suitable beach "Balota" , but on the beach "Laterna" is not necessary to go with children because of the harsh depths of the sea at this point).
The Croatian coast has both beaches awarded the Blue flag and is located a mass entertainment, and rocky, secluded coves, around which grow pine.
Photo