Flag of Croatia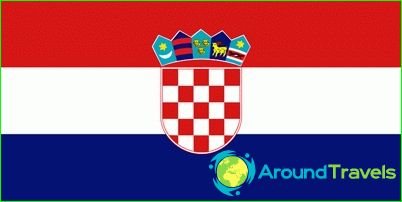 The national flag of the Republic of Croatia - it is an essential national symbol, a national anthem and coat of arms.
Description and proportions of the flag of Croatia
Croatian flag - a standard rectangularshaped cloth, which relates to its length to width ratio of 2: 1. The color scheme of the flag is designed in classic Slavic colors. It is a horizontal tricolor, whose band width equal area. The order of sequence of the flag of Croatia is as follows: the bottom is the blue bar, followed by white, and the top - red.
In the center of the Croatian flag is its coat of arms. He is a shield, which is divided into staggered red and white squares. A total of 25, five in a row. Above the shield is a crown, each of which five teeth - historical coat of arms of one of the geographical entities: Croatia, Dubrovnik, Istria, Dalmatia and Slavonia.
The history of the Croatian flag
These colors are really traditional for the Croats,and history of the country shows that the national and their clothes were sustained in these colors. Braid, braid that embroidered men's woolen jackets were red, white and blue. It is this range predominated in costumes at the inauguration of Croatian bans - the land of the rulers and regions.
The first united in their dresses these threecolor Josip Jelacic, ban, which came to power in 1848. His contribution to the acquisition of the state independence of Hungary and the preservation of national property gave the countdown for the tri-color symbol of the country. Now tricolor is the integrity and indivisibility of the Croatian lands and people.
Chess cell on the arms, according to legend, there was aafter the game played by the King of Croatia with the Venetian doge in the tenth century. The winner got the right to possess the cities of Dalmatia, and about the outcome of the party, you can easily guess from the red and white cells in the coat of arms and the flag of Croatia.
Coat of Arms image appears on the flag of the stateonly in 1939. Until that time, it was a simple tricolor. In 1945, the coat of arms was replaced by a red five-pointed star because entry of Croatia into the FPRY. In 1947, the star received a gold edging, and as such the Croatian flag existed until 1990. Then, to obtain independence, the star with the flag was removed, it was replaced by a shield, and a few months later - and a full Croatian coat of arms.
Photo Croatia flag