Holidays in Croatia in January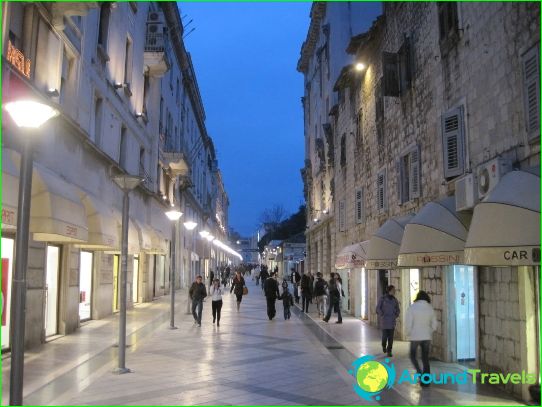 Croatia winter becomes majestic andwonderful. However, in order to enjoy long walks, need to stock up on warm clothing. This is especially important if you plan to visit the mountainous or coastal areas, it is here marked the lowest temperature. For example, in Zagreb the day is + 3C, and colder at night to -2C. In Pula will be a little warmer: +1 ... + 8C. Zadar and Split, Dubrovnik ready to please a pleasant temperature: +6 ... + 11C. However, the sea cooled to + 12C, so swimming becomes impossible.
Holidays and festivals in Croatia in January
1. December 31 - January 1 Croatia celebrate the New Year. People having fun at the largest town squares and arrange colorful fireworks. The most important event is held in the capital, Zagreb, but the spirit of fun and celebration can be felt everywhere. New Year in Croatia is not rich in its own traditions, which are a repetition of the Christmas customs: give each other the water, jelly, apples.
2. January 6. Croatia celebrate the day of the Epiphany, also known as the Feast of the Three Kings. January 6th is a holiday in Croatia.
3. Carnival Rieks duration of a month is one of the most special events in Croatia. By the number of participants of the show failed to take third place in the world after the carnival, which became famous thanks to Venice and Rio de Janeiro.
Among the most interesting shows of the carnival parade of bell ringers should be noted. People dress up in animal skins and ring the bells, trying to drive out evil spirits.
A mandatory attribute is the election of the Queen and Baron carnival Rieks.
The main parade lasts only one day. Visit the official site of the carnival, you can find this landmark date. Other days are held interesting and exciting show, among which must be noted on a snowboard competitions, car mileage "Paris - Bokar", which is a parody of the "Paris - Dakar", a children's masquerade. Carnival decided to finish burning effigies, which is a symbol of winter, troubles, diseases that beset people last year.
If you are not able to attend the carnival Rieks, you will be able to visit the carnival held in Split, Dubrovnik, Novi Vinodolski, Crikvenica.
The advantages of a tourist trip to Croatia in January
Are you planning a holiday in Croatia in January? In this case, you can enjoy a mild winter and a beautiful nature, excursions to ancient cities and active pastime in the best ski resorts, among which should be noted Bjelolasica, Chelimbashu, mountain Slam. Treat yourself to a wonderful fairy tale!
Croatia - Sights and cities
Photos holidays in Croatia