Holidays in Croatia in July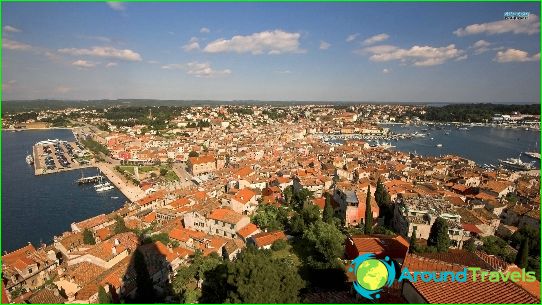 It is a small country, occupied the territory inThe center of Europe, gradually developing the tourism business, offering stunning beauty of landscapes, clear blue sea, beautiful beaches and coves. Holidays in Croatia in July will bring the most vivid emotions of parents and children. Youth, seeking nightlife and adventure, it is better to look for other countries and resorts, people between the ages can safely buy tickets to this country.
Weather in July in Croatia
Mid-summer in this country marked by very warmand dry weather, the sweltering heat is not, in principle, the sea breeze on the coast brings fresh cool air, allowing tourists to feel comfortable.
The average daytime temperature rises to 28 ..30 ºC, on some days can be observed and +32 ºC, then it is better to limit exposure to the sun and to do shopping or go sightseeing. The water in the Adriatic guarantees a heavenly dive because its temperature is about +26 ºC.
Rest and treatment
A trip to Croatia in July will not onlyimprove the body, but also to get rid of certain ailments. The country has about 30 mineral springs, which are used in the treatment of chronic diseases. Sibenik will delight holidaymakers a variety of spa treatments, which are based thalassotherapy. Centre "Naftalan" is unique in its kind, since there are carried out treatments using healing oil.
Amazing Zagreb
Many vacationers successfully combine a beach holidayand familiarity with the country, which has a rich history and many monuments, witnesses of those ancient events. One of the most attractive places in this regard is the ancient and modern capital of Croatia - Zagreb, formed by the merger of two brothers cities, Kaptol and Hradec. The most ancient monuments belong to the XII century, it's fortifications, the construction of which lasted almost 600 years. It is impossible to walk past the Town Hall - the city's symbol of independence and the beautiful Church of St. Catherine.
In Zagreb, as in many other vintageEuropean cities, you can see an amazing mixture of cultures and styles. The palaces, built in the baroque or classical style, interspersed with Gothic churches.
Mimara Museum is ready to present all the wealththeir funds in the permanent collections and temporary exhibitions. Botanical and Zoological Gardens will enjoy rare and amazingly beautiful plants, unusual local fauna.
Croatia - Sights and cities
Photos holidays in Croatia