Holidays in Croatia in June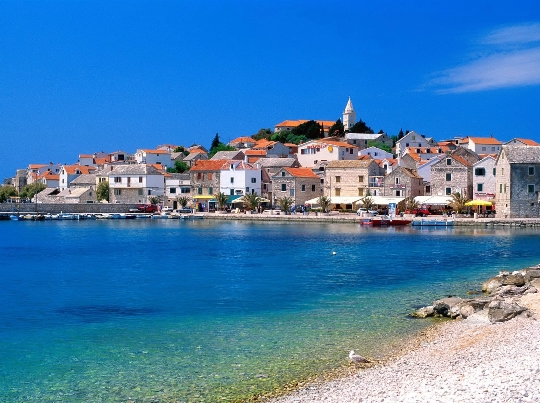 A remarkable combination of warm sunny weatherand quite comfortable sea temperatures will delight tourists first summer month. Holidays in Croatia in June primarily like families with children, due to the very comfortable weather conditions. In addition, travelers always find time to visit the Croatian attractions, museums, parks, relax on the beach and take part in cultural activities.
Climatic conditions and weather in June in Croatia
As Croatia as it consists of two parts,Continental and Adriatic, it certainly affects the climate. On the territory of such a small country can be observed continental climate (in the northern part), mountain (Central Croatia) and the Mediterranean - on the coast.
The air in places on the coast alreadywarms up to the mark of +26 ° C, the sea about +21 ° C. While most tourists still standing in line for tickets, the most intelligent and quick already enjoying holidays on the Adriatic coast.
The second pleasant moment of rest in June, this is a small amount of precipitation. Rains in the first month of summer - a rare phenomenon, to spoil the holiday, they can not.
Holidays and festivals
A large number of events are planned for June. Since the opening of the coming high season, tourists coming to Croatia is not the first year, demand new entertainment.
In June, in Zagreb concerts are traditionally held within the framework of the Philharmonic Festival in honor of St. Mark's, you can visit the amazing exhibition of flowering "Flora-art" plants.
Children will be interesting cartoon festival, where you can get acquainted with the new creations of world-class animalists, learn how to draw cartoons and generally have fun.
Porec is calling on the Folk Festival, where ancient and beautiful Croatia will appear in all its glory.
Croatian diplomacy
The fact that tourists from all corners of the planetnow we have the opportunity to visit on holiday in Croatia, much of the credit of local diplomats. Establishing good relations with all countries and peoples in this country given special attention. No wonder, June 7 held events dedicated to the Day of Croatian Diplomacy.
statehood Day
Guests vacationing in the country at the end of June,It has the opportunity to join the festivities in honor of the independence of Croatia. Mass celebrations are going on all over the country, a special scale, they differ in the capital - Zagreb.
Croatia - Sights and cities
Photos holidays in Croatia