Croatian Railways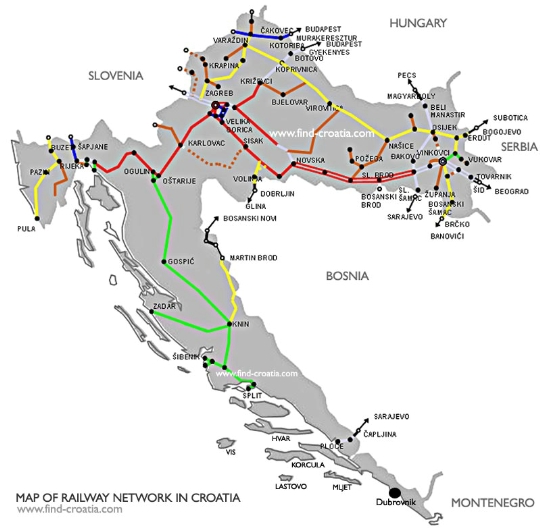 Croatian Railways together withrailway system of other European countries. Country is directly connected with Slovenia, Italy, Germany, Serbia, Bosnia and Herzegovina, Hungary, France. The railway system is served by a national organization Hrvatske Zeljeznice (HZ). The capital of Croatia (Zagreb) is the center of g / d system of the country. Hence, in different parts of the country for trains.
The railway sphere
Despite the good condition of the railroad,the bulk of the traffic on motorways is happening. Railway network in Croatia in terms of development lose road. The country is actively transforming the railway sector. Ways continue to be modernized, updated and expanded. Commissioning new compositions that are capable of traveling at high speeds. Passengers are guaranteed quality service and comfort while traveling. Large cities (Zagreb, Varazdin, Rijeka, Osijek, and others.) Are linked by railways. The railway network of the continental part of Croatia is best developed. Split and Rijeka can be reached by train by traveling from Zagreb. On the coast of the rail network does not cover all areas. Therefore, tourists are transplanted by taxi, ferry or bus to get to the resorts. Currently, railways Croatia inferior to the best European standards. They are in the process of modernization, allowing Croats to gradually increase the quality of service.
What train are used
According to Croatian territory ply fast trains,long distance and international express trains and train superior Eurocity. The total length of railways is 2725 km. Railways do not enjoy such popularity as cars and buses. Between many cities is more profitable and more convenient to travel by bus. The movement of trains is difficult in mountainous areas. In such places, passengers prefer to use buses. Internal railroad connects all towns in Croatia except Dubrovnik. Buy a train ticket can be at the station ticket office or on the website www.hzpp.hr.
In Croatia go train from anywhere in Europe. There are rail routes between Zagreb and Milan, Leipzig, Venice, Trieste, Vienna and other cities, which are included in the European w / d net. Croatian train a high level of comfort and reasonable prices. The country has such European travel, as the Eurail pass, Croatia pass. Cost of the ticket is determined by the type of train and class of carriage route.
Photo