National parks of Croatia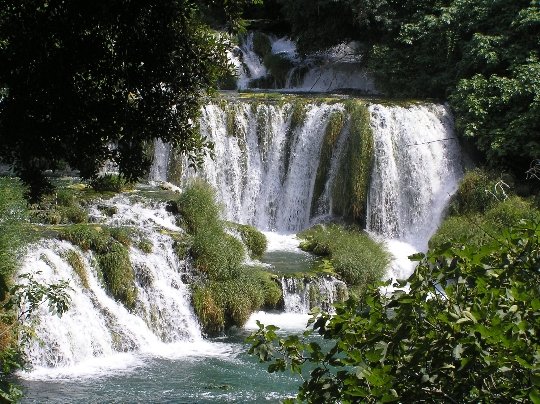 Eight national parks in Croatia - nowthe country's wealth and the amazing nature reserves, where time seems to have stopped. The nature here is as pristine as it was hundreds of years ago, and the inhabitants of rivers and forests as in the past, adorn the magnificent scenery of the Balkan republic.
About every
The first national parks in Croatia appeared immediately after the Second World War, and the last - in the late 90-ies of the last century:
"Plitvice Lakes" are on the Dinaric Alps. The nearest town - the city of Slunj.
Park "Paklenica" stretches to the north-east from Zadar.
The town of Delnice - the center of the park tourist infrastructure "Risnjak".
The island of Mljet - national park in Croatia, South Dalmatia region.
Kornati archipelago is located in the Adriatic Sea off the coast of central Dalmatia.
Brijuni Islands Group is available on the Istrian coast.
Between the towns of Knin and Skradin lies the valley of the river Krka.
To the south of the city Senya formed the youngest country national park "Northern Velebit".
The total area of ​​national parks in Croatia is nearly 1000 square meters. km.
Diamonds European nature
National Park "Plitvice Lakes" worthymost enthusiastic epithets, but because, in spite of a sufficient distance from the tourist resorts, is very popular among travelers. The main attractions - clean air, pristine forest, waterfalls and a variety of rare species of Balkan flora and fauna. The water in the lake is so clear that you can see at the bottom of every blade of grass, and a rare combination of colors in the creeks allows artists to create masterpieces.
Details and rules visit the park "PlitviceLake "can be found on the site -. www.np-plitvicka-jezera.hr to the questions posed by phone +385 53751015, willingly respond Administration The one-day ticket will cost from 55 to 180 HRK depending on the season For kids to.. 7 years free entrance to the park.
Krka and its inhabitants
Submit to this park, visitors anticipatea meeting with a large waterfall and lots of birds living on the banks of the river Krka. Cascade of the Seven Waterfalls has a value more than the total fall of 240 meters, which is a record for the Balkan region.
Architectural attractions of thisNational Park in Croatia attract Christian pilgrims - Visovac Franciscan monastery of the XIV century on a small island in the middle of the river and the monastery Krka are important centers of Orthodoxy in the Balkans.
Price per adult in winter is 30HRK in the summer - 110, and in the rest of the time - 90. Children under 7 years of age can visit the Croatian national park for free, and for young people and senior citizens are special discounts, information about which can be obtained by phone +385 22201777 or online - www.np-krka.hr.
Photos national parks in Croatia