Prices in Croatia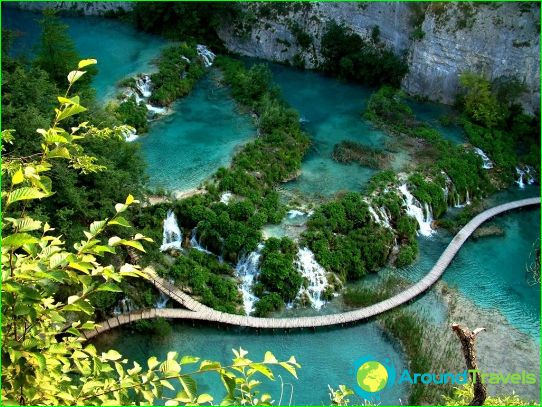 Prices in Croatia are the same as in many Western European countries.
It's worth noting that the holiday in the resorts such as Brioni, Makarska, Opatija will cost you more (they are considered elite) than in the more democratic (Porec, Trogir, Roven).
Resting on the popular Croatian resorts, youwill be able to pay MasterCard card, Dinners Club, Visa, American Express, but in the towns and on the islands to pay for services it is advisable to have a supply of cash.
Shopping and souvenirs
Shopping in Croatia - it is a variety of shops and boutiques where you can buy clothes, both local and international brands.
What to bring from Croatia?
- Products of folk art (vuchedolskie dove, lace, coral jewelry, handmade candles), handmade jewelry, lavender oil;
- Prosciutto, Croatian wines (popular brands - "Plavac", "Grasevina", "Malvazija", "Prosec"), plum brandy (local plum brandy), olive oil.
Croatia should buy dried or pickled truffle: truffle pasta is from 9 euros / 100 grams, 100 grams of whole black truffles in a glass jar - $ 35, and White - $ 200/100 grams.
As for Croatian wines, then for 1 bottle, you pay $ 6.
Excursions
On a sightseeing tour of Dubrovnik you will learn about the history and legends that go about the city, see Dubrovnik and the surrounding islands with a bird's-eye view (you will bring to the panoramic site).
During the tour you will see sights such as the city walls of Dubrovnik, the Cathedral of the Assumption of Our Lady, the prince of Dubrovnik Palace.
The approximate cost of a 4-hour tour - $ 30.
In the "Romance of Plitvice waterfalls" tour, you will see eight wonder of the world (they call this place themselves Croats), namely National Park with 16 lakes and 92 waterfalls.
The approximate cost of a 3-hour tour - $ 50.
Entertainment
You may want to take part in the "Fishpicnic "- you will not only see the forest and the bays that surround the Istria, but also sunbathe and swim in the crystal clear water, and for lunch offers a taste of wine and fish with vegetables, grilled.
Entertainment Approximate cost - $ 30.
If on holiday you want to go rafting, you will be able to go rafting on the mountain river, getting a lot of thrills.
Entertainment Approximate cost - $ 35.
Transport
A popular form of transport in Croatia - tram: 1 cost of the trip is 0.9 euros (bought a ticket valid for 90 minutes). It is more convenient to buy travel card valid for 24 hours (unlimited trips): its price - about 2.5 euros.
To move on the Croatian city on a bicycle, you can: hire costs - € 2 / hour and 11 Euro / day.
As for the bus, then get from Split to Dubrovnik, you can for 13 euros, and from Zagreb to Split - for 23 euros.
If you have a budget and you planseriously to save, you'll need about 30 euros a day, and planning a full comfortable stay with a visit to an active excursions, you will need to 100-150 euros per day for 1 person.
Croatia - Sights and cities
Photo