Rent a car in Croatia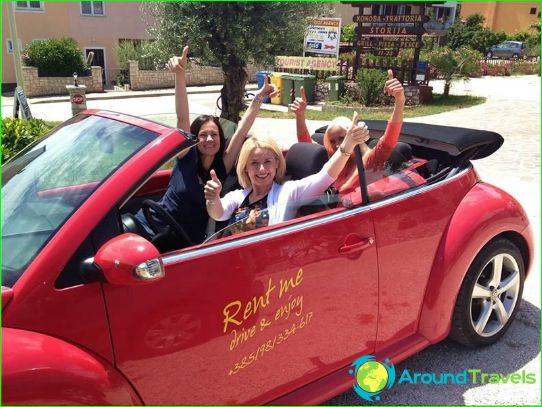 Rent a car in Croatia is a citizenat least 21 years, in addition, he must have driving experience of at least three years. To order it is necessary to rent a credit card, which is a sum sufficient for the pledge. Also need a passport and driver's license. In the absence of a credit card to pay a deposit equal to 150-300 euros. At the same time, you can rent a car directly at airports where there is a representative known car rental companies. The day you pay the rent from 50 EUR.
Do not forget that at the conclusion of the contract youYou should know that it is included in the price. As a rule, there is included: unlimited mileage, liability insurance, insurance against accidents and in case of theft, as well as additional fees and all existing local taxes.
Pay extra, you can:
Navigator;
Child seat;
Insurance for second driver or superstrahovku.
It is also possible for a fee to issue "green card" for leaving Croatian border. It should be remembered that no one type of insurance does not cover damage to tires and glass.
Pros rental in Croatia
Benefits for travel to Croatiathe car you will feel a dip in its wonderful nature with its perfectly clear sea and four thousand kilometers of coastline, where the smell of pine needles reigns, majestic cliffs, cut grooves bays.
In Croatia, everyone wants their own way to joinNature. Someone liking amazing ecology: crystal clear sea and beautiful sandy beaches with pine trees towering over them. Someone comes to touch the healing power of one of the 20 mineral springs. And someone will go to the unique field of medical oil. However, a rented car, you can visit it all at once, building your own itinerary.
At the same time, you can learn and niche tourismattractions of the country. For the most part they are located in Split and Dubrovnik. These cities have been designated World Heritage Sites. Split You will enjoy a famous Imperial Palace of Diocletian. As the name implies, it is very well preserved from the times of the Roman Empire. And this is not a palace in the usual sense of the word. It is, in fact, this ancient city.
Another legacy of the ancient Roman civilization - isCity Salon, which also can be found not far from Split. However, the city did not spare time and have survived only the ruins of the once rich settlement.
There is another interesting object - castleKlis. It is not so ancient than the ancient ruins of the settlements, but there are always a lot of tourists. This is facilitated by including a stunning view from the cliffs on which the erected fortifications.
Croatia - Sights and cities
Photo