Shopping in Croatia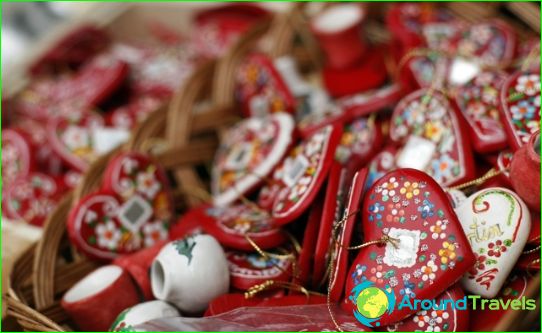 Holidays in Croatia will be an unforgettable, if youwill bring out something in memory. Fans of European clothing brands to find clothes shopping malls mainly Italian and local producers. In the markets of many things Turkish and Chinese-made good quality.
Popular shopping and souvenirs
Beautiful "sea" a gift from Croatia -corals of different shapes and colors, are sold in souvenir shops. Do not try to look for corals in the sea on their own - it is forbidden by law. But the shells are a great many of them making bracelets, they decorate photo frames and picture spread.
National souvenirs - Dalmatian expensive handmade lace, embroidered napkins, tablecloths, traditional costumes and dolls in them, tapestries, carpets, wool and leather.
The traditional Croatian jewelry - Charmmorchich. This brooches, earrings, bracelets as a Moor's head in a white turban. You can buy jewelry from the same manufacturer "Morchich", they will delight you with high breakdown, elegance and diversity.
Croatia - the birthplace of pens, stationery TOZ-Penkala - fashion gift for the business person.
The tie was invented in Croatia, so you just have to bring a gift. Choosing simply amazing - from wool, silk, classic and thrash.
Lavender and lavender oil, soap, oil-basedLavender can be purchased everywhere, but the best - in Hvar. Along the coast, sea salt is sold in souvenir packages in Rovinj can be viewed as cast handmade candles and buy them on the street.
Delicacies and drinks
Croatia has made 76 varieties of fine winesabout 700 registered. Unusual us blackberry wine in a beautiful bottle, white "Kuyundzhusha", "Malvasia", "Zhlahtina", "Poship" red "Plavac", "Dingač", "downcast", or the famous "Cabernet" and "Merlot" - you choose , since there is nothing. Popular liqueur "Maraschino" brandy "Slivovice" tincture "Travaritsa" wormwood balm "pelinkovac" and grape vodka "grappa" and "Raki".
Aged in olive oil "Pasha" and cheeseair-cured and smoked ham prosciutto will be a good addition to alcoholic beverages. Olive oil, truffles black and white, dried, pickled or as paste, seasoning Vegeta three types (regular, sredizemomorskaya with herbs and burning with red pepper), gingerbread and special honey cake red - litsitarskoe heart - delicious, useful gifts and always are a success.
Croatia - Sights and cities
Photos of Croatian goods, shops and markets