Shops and shopping centers in Zagreb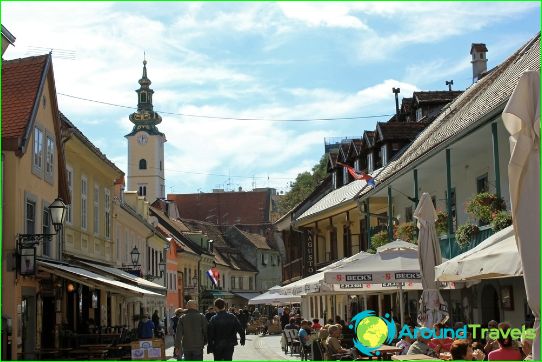 Shopping in Croatia is a good complementto leisure travelers. On the one hand, Zagreb - the capital city, is located in the center of Europe, close to Italy, which promises a successful purchase. On the other hand, experience shows that in boutiques Zagreb offer most things last year's collections and do not indulge meticulously compiled size range. So experienced shopaholics prefer Croatian souvenirs and grocery delicacies. A less demanding audience will be satisfied with this kind of holiday in all respects.
Popular outlets
The main shopping street of the capital of CroatiaCastle Street is Dolny ( "downtown") Ilica. From it both ways branch off into smaller streets. This entire area is strewn with shops of all sizes. At the same time, it is quite compact, and the legs will not make you a claim for ruthless exploitation. All the well-known European brands held near Ilica their boutiques. Boutiques are combined with art galleries, museums and restaurants. So walk along Ilica will be full of diverse experiences. Here shops of different price segments, but preference is given to an average price segment brands, such as Benetton, Max Mara and others. Armani, Dolce & Gabanna are located in the central square of Ban Josip Jelacic. Max Mara, Escada, Cacharel, Calvin Klein, Diesel - on Frankopanska street, Gundulićeva.
No city is complete withoutshopping and entertainment centers. "Zagreb Arena" - from the center to get the whole 10 minutes. by car. «West Gate» - the huge size, the maximum range of products; to get on the E59 highway in the direction of Maribor. «Roses Designer Outlet» - Outlet Discount on European brands, are all on the same E59 towards Maribor.
Interesting shops Croatian producers:
«Nebo» on the street. Radićeva, 17, specializes in clothing made from natural fabrics. Woolen dresses, cardigans, cotton and silk blouses, scarves are of high quality and low-key style.
On the same street, in the courtyard of the house number 3 Shop «Galerij Oblak». Her owner produces and sells ornaments made of the grant, coral and other semi-precious stones.
Boutique «Mara» (Ilica, 49) offers jewelry, handbags, brooches in the folk style. These gadgets are made very soundly, are not cheap, are ideal for gift a loved one.
On the street. Vlaška notable shops Taja and Hook. They are simple, but at the same time an interesting clothes for every day. The labels on the clothes of these shops - no less than the memory of Croatia than the magnets on the refrigerator. They will long to awaken fond memories of the hospitality of the ancient country.
Photos of Zagreb stores