Traditions Croatia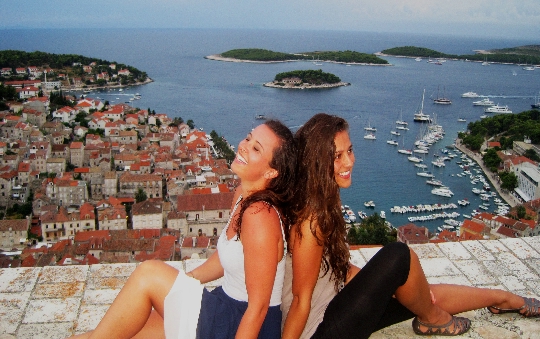 In European fine and Balkanfriendly and courteous staff, no wonder Croatia gained fame democratic, but very decent resort, where every summer rush for the perfect tan and positive emotions thousands of compatriots. National customs and local cuisine, ancient sites and traditions of Croatia make a vacation memorable and trip - an enjoyable and eventful.
Babel in miniature
Croatia - a multinational state, andits territory is inhabited not only to Croatians, but also Italians and Slovenians, Bosnians and Serbs, Macedonians and even Roma. The official language here is considered to be Croatian, but in the cities of Istria, which is adjacent to Italy has a public status and Italian. Representatives of other nationalities have not lost their dialects, and in Croatia can be heard throughout the Hungarian and Czech, Serbian and Slovenian, Albanian, and even old istroromansky says.
The first in the Old World
Numerous traditions of Croatia and its peoplelisted as a UNESCO World Heritage Site. Moreover, the Balkan country was in first place in Europe and the fourth - in the number of nominations in this prestigious list. Over seventy different carnivals, festivals, crafts and rituals gave the Croats the world, and therefore it is not surprising popularity of the local tourist routes and excursions. Among the most famous in the UNESCO list:
Hike residents of six villages on the island of Hvar. The ceremony is called "Behind the cross" and is held on the eve of Easter. Religious shrines bears on the shoulders of the person, and the participants of the procession during the 25 kilometers cross escorted without rest.
Day of the City of Dubrovnik and the feast of St. Vlach. Patron of the most famous Croatian resort is revered by February 3.
Lacy fishing island of Hvar, Pag and the town of Lepoglava. According to experts, skilled workers from Croatia weave the finest lace and unique in the world.
Dalmatia bullfighting in the village Radoshich. This tradition of Croatia attracts thousands of visitors participating in the popular amusements such as donkey races on speed or drink wine.
Knight tournaments on the island of Korcula for summerThursdays. For the first time such competitions have started in the XV century, and since then, they have enjoyed continued popularity among locals. The most daring tourists can take part in the battles, taking suit and gear rental.
Photo