AMResorts charges optimism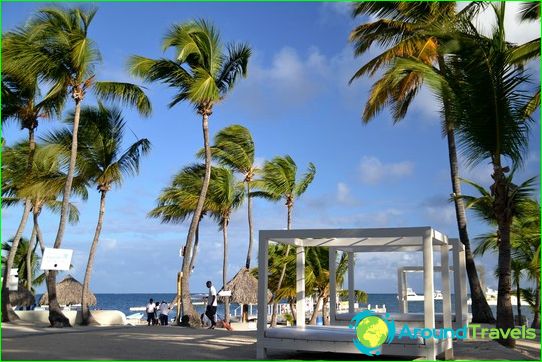 In the winter, tired of the cold and slush City,most Russians prefer to be there, where it is warm and sunny, so it is not surprising that their eyes are turning towards the Dominican Republic and the Caribbean. This is understandable - the goodwill and positivity locals, plenty of sun and fruit, hospitality, hotels, beauty clouds and the ocean - is only a little, what attracts this direction the Russians. It should be noted that the low tourist season in these areas absent, and the diversity and abundance of sightseeing and entertainment services is of interest to tourists in all seasons.
The well-known tour operator "Pegasus Touristik" for a long timeworks with the Caribbean, and competently and professionally helps to appreciate the holidays in the country, forming their own packages to suit customers' needs. As a result - the quality of service is excellent and the budget proposals, and proposals for the most demanding customers.
AMResorts
About two years ago to "Pegas Touristik" partnersadded American hotel chains AMResorts. To date, it includes six hotel brands, and 37 hotels offering its guests a unique vacation concept Unlimited Luxury - «boundless luxury." To understand what comprises this term, here are some key points that distinguish these from other global brands:
• Lack of monitoring bracelets
• Themed Restaurant «a la carte» without reservations
• Alcoholic drinks are the world's best brands
• 24-chasovoeobsluzhivanie Room
• Exciting daytime activities
• Night shows and disco
• Explorers Club for kids 3-12 years old and a program of entertainment for teenagers
• The spacious rooms and suites
• Mini-bar, replenished daily
• Service on the beach and by the pool
Among other things, the total for the entire chain - isthat in addition to a modern interior design and the highest level of service, each of them is ready to satisfy even the most discerning travelers.
In December, we had the great opportunitysee the main advantages and infrastructure of some hotels, and make sure that the Russian tourists love and expect in the Dominican Republic. Comfort in the movement for the Dominican Republic, we provided the host company Amstar - namely it provides transfers and excursions for guests AMResorts hotels. Our first home was the Hotel Now Larimar Punta Cana.
Now Larimar Punta Cana
It located close to the Caribbean Sea and hasvery beautiful scenic beach. It meets all requirements of a modern recreation, providing excellent service. Now Larimar Punta Cana offers all the comfort and has a "zest" - in addition to swimming pools, a beautiful beach and a hot tub (even in budget rooms), the hotel has its own casino, a nightclub for adults, and an entertainment club for children and teenagers, developed thematic development programs and work employees with teacher training. Another attraction at the Now Larimar Punta Cana - bowling.
Now Larimar Punta Cana - a modernYouth Hotel, where you can spend your holidays in active sports or dance, and it is possible to give preference to creative work, such as painting. For lovers of evening programs - daily entertainment shows. Gourmet - delights of restaurants to suit all tastes: Asian restaurant, Chinese, Italian, French - a total of 11 restaurants and 14 bars.
Another important point is the proximitythe famous island of Saona. Excursion to the island is remembered for a lifetime. Turquoise clear waters of the Caribbean Sea, white sand, which does not burn his feet and untouched nature coast - it's just a word that does not express the beauty of this place. Because of its beauty the island has been selected for one of the chocolate "Bounty commercials. Things to see with their own eyes.
Dreams Punta Cana Resort & Spa
Another, no less interesting and comfortable hotelChains - Dreams Punta Cana Resort & Spa. This hotel offers unlimited daily activities and nightly entertainment. Every day theme parties on the beach. Good infrastructure, very suitable for weddings, honeymoon vacation or honeymoon. Here you can fully plan and perform the wedding ceremony. During our visit in December 360 weddings have already been recorded in the plans for 2015!
The spacious two-room and luxuriously equippedrooms in pastel colors, the mini-bar in the room, which is updated daily, the pool service and on the beach, natural fruit juices, beers and cocktails are not limited to - all around the clock also has to rest.
It features Explorer's Club for children andTeens Club for teenagers with the animation team, suiting weekly "fires" and themed disco. This hotel is mostly chosen by parents with children, because it really is very suitable for families. All standard rooms have a sleeping area and a communication zone at the TV - so all family members can feel comfortable anywhere. The hotel area is reminiscent of a park and also gives complete freedom in the choice of recreation and entertainment.
Not far away is the famous beachMacau - a great place for a romantic horse walks on the beach. This picturesque town is included in the safari tours program for small cars "buggy", and of course, it is a popular place for surfers, as the ocean is almost always keeps the wave of here. runs a surf school and surf are not only experienced athletes who can give lessons of riding on the waves, individually and in a group, but also newcomers on the beach of Macao. We can assure you - an unforgettable experience from the first independent attempt to conquer the turquoise expanse of the ocean, will be remembered as the sun card.
Zoëtry Agua Punta Cana
For lovers of peace and quiet, and the mostdiscerning travelers, the hotel recommends AMResorts Zoëtry Agua Punta Cana, this is - "endless privileges" (Endless Privileges®) and the most unique service with endless amenities and facilities.
It is apart from the nearby hotels andIt is primarily a place of rest provided by the financial category holidaymakers who want tranquility and complete rest. This is the only boutique hotel in the Dominican Republic. Green area with palm beach, winding line of pools and interesting design bungalows, suites with stunning ocean views, exquisite gastronomy, as well as unlimited privileges and full comfort - all this can not fail to have a pleasant rest and remembered for a long time. Hotel provides a complete relaxation, and its territory, most surprisingly, remains impervious to the superfluous sounds and bustle.
The four restaurants of «a la carte» deliciousdining, and three luxurious bars specialty drinks, including a variety of elite alcohol. In a gift to each of its guests the hotel gives complimentary 20-minute massage or 45-minute riding lesson. There is even a clock laundry, which also can be used at any day. Being in this place, you know that the name given to the hotel is very suitable: ZOETRY translated from Greek means "the art of living."
Breathless Punta Cana Resort & Spa
And another, Unlimited LUXURY® only for adults and xhale club Privileges - Hotel Breathless Punta Cana Resort & Spa, has an excellent area and a modern design.
Rest in this hotel is perfect for bothsingles and romantic couples or friends. Deluxe rooms, a balcony or a terrace with a sofa and a jacuzzi, pristine beach stretching 650 meters, set the mood of rest and relaxation. Restaurants and bars provide a world-class lively nightlife and entertainment. Unlimited premium drinks in nine chic bars and cafes. The hotel has an interactive dating club, which allows to meet people from all over the world. 8 restaurants and «a la carte», do not require pre-booking dinner. Another good and important services, which like the rest - is the ability to free local calls and calls to the US and Canada.
The hotel is perfect for corporatepicnic on the beach resort. Conference rooms are just steps from the soft sandy beaches and fine restaurants. You can start your day with a vigorous workout in the gym or enjoy a relaxing massage at the spa, to continue the day by the pool or at the bar, and finish - incendiary theme parties or private dinner on the beach. This hotel meets the needs of the most affluent guests. offering the highest level of personal service - «xhale club».
Here are a few exclusive services that are available to guests of this hotel:
• hour room service.
• Unlimited dinners in the thematic restaurants.
• Butler service is available.
• Evening turndown service.
• Exclusive range of beverages Premium category.
• Kite surfing, and just 14 animation programs, which change daily.
Of the total number of tourists opting for hospitalityAMResorts brands, Russian tourists make up only 10% - 15%, but as we are assured of top-managers of hotels, with whom we met, Russian tourists are always welcome. This favorable category of tourists, a distinctive feature of which is stable for a long stay and pay. Of course, pleased that Russian tourists are now described as serious and credible. But there is another good news: thanks to a good knowledge of the needs of customers, "Pegas Touristik" has opened an opportunity to see the Caribbean and the rest of the Dominican Republic with a comfortable stay in hotels at very different consumer taste and wealth.
The country has 8 international airports and a hugeCalendar of interesting events and activities. One of the most interesting - Boat trip on the spawning whales. Very beautiful, colorful and exciting carnival in Punta Cana in March. Festivals - jazz, merengue and bachata, catching bluefin tuna. Each month you will find an interesting event.
And now after a close acquaintance with such wonderful hotels we recommend with confidence: Plan your next vacation in the Dominican Republic!
Photo