Airports in Dominican Republic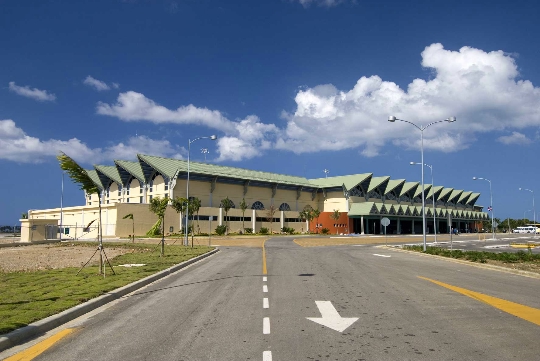 All four of the Dominican Republic have the status of international airport. Still would! After all, this Caribbean republic absolute leader in the number of the region's tourists visiting it each year from around the world.
Russian travelers - frequent visitors inDominican Republic. To get here from Moscow easiest way to "Aeroflot" wings, which has several regular flights a week in the resort of Punta Cana airport. Travel time is about 13 hours. With transfers in European capitals will bring the tourists, many airlines of the Old World.
The international airports in Dominican Republic
Having landed, you can not only in the capital but also in the vicinity of the main beach resorts in the Dominican Republic:
Airport Punta Cana takes about 60% of all tourists arriving in the country by air. It works with 50 carriers in 40 countries.
In Santiago de los Caballeros has its own airthe harbor, which is called Qibao. The city where the airport is located, - the second largest in the country, and most of the flights from here takes place in the direction of Cuba, the Turks and Caicos Islands, Puerto Rico, Panama. The schedule also present daily flights to Boston and New York and seasonal - in Atlanta.
Dominican Republic International Airport Las Americas is located 20 km from the capital, Santo Domingo, and serves passengers arriving to and the resort of Boca Chica.
Airport La Isabela Dominican Republic can take international flights, but mostly in his schedule - flying around the country and in neighboring States - Curacao, Haiti, Aruba.
metropolitan area
Two airport terminal Dominican Republic Las AméricasIt takes up to three million passengers per year and provide up to 80 departures each day. In Europe fly here French and Spanish, and the vast majority of flights performed in the Western Hemisphere. On the airfield frequent guests are board American Airlines, Avianca, Cubana, Delta Air Lines, JetBlue Airways, United Airlines, US Airways and Copa Airlines with departures to New York, Boston, Atlanta, Havana, Bogota, Panama City and other cities .
Transfer to the city is possible by taxi and bus, and those who prefer to travel by rented car, rent car services can be provided directly in the arrival hall.
beach Destinations
Five terminal near the main airport Dominican Republic beach resort of Punta Cana taken and sent to more than five million people annually.
On the beaches of Punta Cana, you can fly from Canada,United States, Panama, Colombia, Mexico, South America and the absolute majority of the countries of the Old World. Main number of the arrivals and departures of international destinations is made through the terminals A and B. The other terminals are used for domestic flights.
Transfer to the resort is best to book the selected hotel, but to get to the recreation area in a taxi as it is possible.
Photo