Airport Punta Cana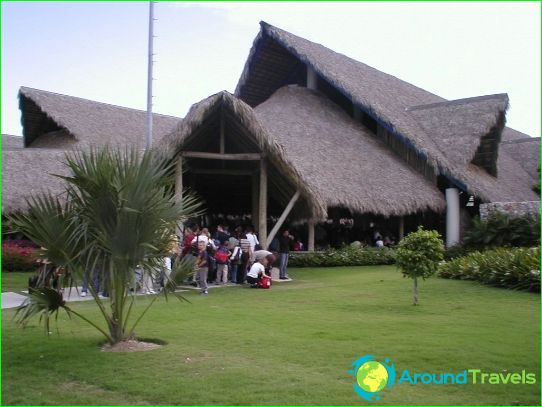 Punta Cana Airport - is a commercial airportbelonging to the same city. Annual passenger traffic is constantly increasing, to date, the airport takes on this indicator the first place in the Dominican Republic and the third place among the airports of the Caribbean, second only to the Puerto Rican airport in San Juan and Cancun airport.
It is worth noting that the airport in Punta Cana is the only one in the country, which is linked to Russia, here you can fly direct from Moscow and St. Petersburg.
The airport is in the Caribbean-style - on the perimeter there are palm plantations and buildings have decorative roof.
3 terminal work for passengers, two ofwhich international. It is also worth noting that the planned construction of an additional runway to cope with the ever increasing flow of passengers.
services
Airport Punta Cana offers its passengers a variety of services needed in the way.
Among the standard services include: mail, bank branches, ATMs, storage, etc.
In addition to the business-class passengers have a waiting room Superior, as well as a meeting room.
Children have a mother and child room, as well as special playgrounds.
A variety of cafes and restaurants will not leave anyone passenger hungry. Among the negative aspects worth noting, not rich zone duty-free shops. In this case, not only pleases the relatively high price, about 20% cheaper than in Moscow.
Alcoholic drinks are quite expensive at the airport, about 2 times more expensive than in the city.
Transport
From the airport to the city can be reached in several ways. When traveling through a travel agency in the price includes a shuttle service to the hotel, it is necessary to specify when paying.
Also at the airport you can find companies offering car rental.
You can also take a taxi, the fare is fixed at 45 dollars. At the same time here you will not find private taxis, all taxis belong to the same company.
As a backup, should be consideredbus, as this option is not very useful - the regular violations of the route schedules and the constant overcrowding of buses due to the popularity of this vehicle can spoil the rest.
Photos Airport Punta Cana