Entertainment in Punta Cana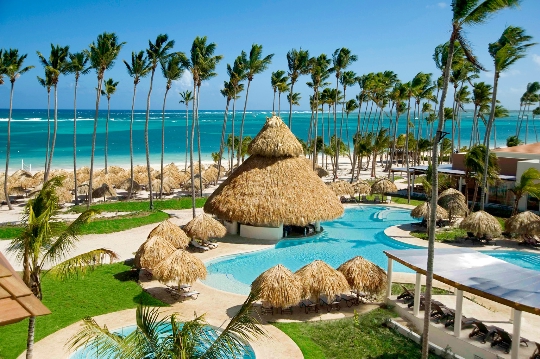 Entertainment Punta Cana focused onlovers of sailing, windsurfing, diving, fishing, jeep safaris, bars and clubs, as well as those who wish to enjoy the rainforest and exotic plants.
Amusement parks in Punta Cana
Marine Park "Marinarium": then the whole family can get acquainted with the numerous inhabitants of the underwater world. Its visitors are encouraged to go to one of the most interesting excursions. So, you can go on trips "SnorkelingCruise" - two-deck cruise on a catamaran, having a transparent bottom and go snorkeling, swimming with sharks and stingrays.
Park "Manatee": here you can see iguanas, snakes, crocodiles, parrots, swim with dolphins, watch for water performances arranged by sea lions and dolphins, enjoy the show with horses and riders, as well as to visit the settlement of the Indians Taino (guests can look into the folklore museum and Indians see the ritual dances).
What kind of entertainment in Punta Cana?
If you are interested in vacation nightclubs,note "Mangu" (visitors can look forward to an interior space, 2 dance floors, the best local and European DJs, music in latino style, house and techno) and "Imagine" (specialty of this institution - R'n'B, Latin, house, hip-hop, and even then there are 3 dance floor, the VIP-area and regularly hosts dance and fire shows Latino).
You - a beginner or an experienced diver? An interesting entertainment for you can be a study of Taino cave: here you will be able to admire the stalagmites and stalactites, as well as admire the optical illusion of air space, seen in the cave (at the boundary between fresh and salt water arises halocline).
If you - a lover of gambling, the greatentertainment for you will be a visit to the casino "Barcelo Bavaro Casino" (here you can play Texas Hold'em, roulette American or Caribbean poker). In addition, here you can play pool and enjoy Spanish cuisine in the restaurant open here.
On vacation in Punta Cana, try to go oncigar factory "Tabacalera de Garcia" (the trip takes about 40 minutes) - then you will see how to create a cigar, including tobacco leaves the process of sorting and packaging of finished cigars.
Activities for Children in Punta Cana
Your children will not be bored even in the hotel, as many hotels in the resort are working animators, attracting young adults and boasts numerous recreational activities.
But in any case, children should pleasevisiting the park "Eyes Ecological": here you and your child will be able to see exotic animals (about 500 species). It is worth noting that the walk in the park with a guide can be one of the most interesting pastimes.
Flying over the jungle, horse buggies, horse riding, surfing and snorkeling - all waiting for you on your vacation in Punta Cana.
Dominican Republic - Punta Cana
Photo