Prices in Punta Cana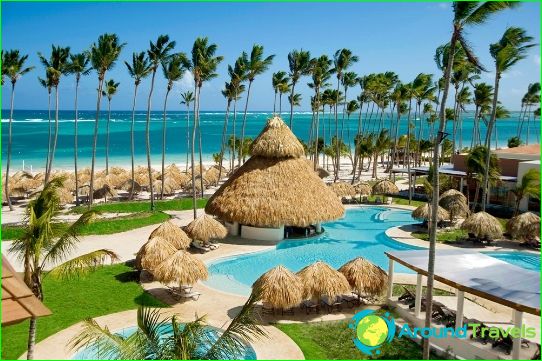 On the east coast of the Dominican Republicspread Punta Cana. This is the most popular resort destination in the country. Prices in Punta Cana is not very high, which makes this place accessible to students and budget travelers.
The currency of the country is the Dominican Peso (RD $). We accept also US dollars. National currency export from the Dominican Republic is prohibited. In many shopping malls the prices are indicated in US dollars. They also take in hotels, restaurants and taxis.
Accommodation in Punta Cana
In the resort include large hotel chains,the owners of which are Europeans. Hotels in Punta Cana choose families with children and couples. The main occupation of the rest - a beach holiday. Almost all hotels provide services on an "all inclusive". The city has hotels, club-oriented and active recreation.
At the party in Punta Cana attracts young peoplefrom all over the world. The city has a different class hotels, so tourists with different prosperity rest here. Entertainment is both on site and beyond. At the hotel there are swimming pools, golf courses, sports grounds.
Punta Cana can not be considered cost-effectivedirection. Costs depend on the hotel category and the length of stay at the resort. Rent apartments are from $ 520 per night. In the luxury hotel room costs from $ 1500 per night. Mini-resort hotels offer rooms for $ 250-300 per person per night. 3 * Hotel rooms for 15 days will cost $ 2000. Holidays in a 5 * hotel for the same number of days would cost more than $ 2,600. The higher category of the hotel, the more additional services receive his guests.
Tourist Activities
The resort Spanish culture combined with the Dominican. The climate is favorable for a beach holiday. Therefore, visiting the beaches is the main occupation of the tourists.
Leisure activities in Punta Cana attracts manyof people. It attracts lovers of snorkeling, windsurfing, scuba diving. Swim in the company of dolphins may be in Manati Park. Tour there costs $ 30. There are good clubs, restaurants and cafes. Sightseeing tour of the resort is $ 85 per person. Lovers of night life offered an excursion to the city of Santiago de Cuba with a visit to an exotic show. Tours to the island Saona with a tour Altos de Chavón (city of artists) costs $ 100. Take a boat trip can be $ 80 for 1 person. To go to the aquarium, it is necessary to spend $ 75.
Food costs
Many hotels offer leisure "all systemenabled. " If you would like to visit a local restaurant, the average bill for 1 person will be equal to $ 50 (excluding drinks). If you will order more drinks and then add to this amount, $ 15. In Punta Cana there are economical restaurants where the average meal costs about $ 20, but the quality of food there low.
Dominican Republic - Punta Cana
Photo