Holidays in Punta Cana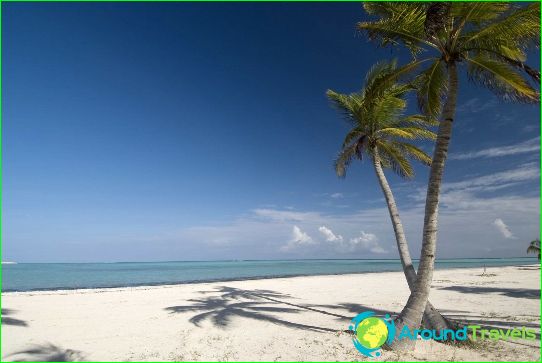 Holidays in Punta Cana - one of the Dominican resorts are in demand not only among fans of sandy beaches and tropical nature, but also for active tourists.
The main types of holiday in Punta Cana
Beach: recreational perfect beaches of Bavaro (there are no big waves here do not swim shark through coral reefs, but also on the beach there are cafes and conditions for scuba diving, water skiing and banana boat rides, paragliding) and Arena Gorda (there is chairs and umbrellas, as well as create conditions for water sports, but here it is advisable to grab something to eat, because you find nearby restaurants).
Active: Punta Cana offers surfing, scuba diving, windsurfing Icons sports, go for a boat ride, walk through the rainforest and undergrowth, visit the cockfights, go on a jeep safari (you can visit the plantations of sugar cane and cocoa, to see the process coconuts firing , visit the farm, where you will be served a delicious lunch), spend time on the golf courses and tennis courts, to carry out rapid descent on the rope that stretched over tropical forests (ziplayn tour).
Sightseeing: a tour desk, nature lovers will be able to go to the Del Este National Park (you will meet with a few representatives of the flora and fauna, caves with ancient paintings and icons) or the Ecological Park "natural eye" (you can visit the nursery iguanas and the zoo, take a walk on fruit and botanical gardens). Those who wish to go on an eco-tour of the opportunity to visit the Natural Park and Manatee Marinarium (on ecological tour you meet with the whales).
Prices for tours in Punta Cana
To plan a trip to Punta Cana expedientthe most favorable period, which lasts from November to March. But in general, at this resort you can relax all year round. Prices for tours in Punta Cana is not low, and their significant increase observed in January-March.
Save possible, schedule your trip here inApril-October, when the resort can fall in brief rains. But before you go to Punta Cana in August and September, it makes sense to get acquainted with the weather forecast (at this time likely to hurricanes, but they may well not be).
On a note!
Before the trip to Punta Cana it is expedient to dovaccination against malaria, and bring your mosquito funds. Dominican sun is very active, so during the holidays be sure to use a cream with a high degree of protection from UV rays. Tourists are advised to drink and use for cleaning teeth bottled water (do not drink beverages with ice).
Mementos from Punta Cana may be a local rum (Bermudez, Brugal) and cigars (Davidoff, Antonio Fuente, La Aurora), amber products, coffee, doll LeMay.
Dominican Republic - Punta Cana
Photos vacation in Punta Cana