Tours in Punta Cana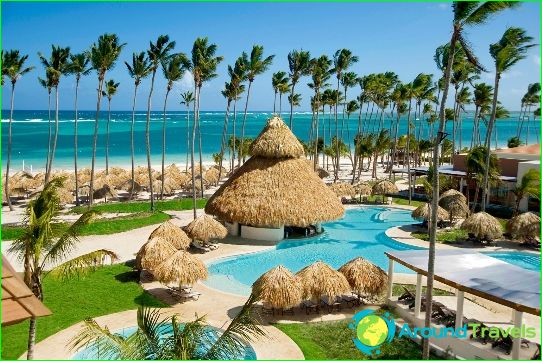 More than four million tourists arriveannually to the beaches of the Dominican Republic. Located in the eastern part of the island of Haiti, this country is like a magnet attracts travelers with its white sand beaches, framed by emerald green of the palm trees and warm sea of ​​turquoise shades. Dominican Republic invites guests to a few resorts, but the most popular among Russian tourists were still things to do in Punta Cana on the east coast.
History and geography
Europeans first set foot on the island in the groundthe end of the XV century. It was a team schooner of Christopher Columbus, who sought new lands in this part of the Atlantic. A few years later the Spanish colonized the island, and then the eastern part of Haiti several times passed from hand to hand during the bloody wars. State and military coups, revolutions and uprisings continued until the mid-twentieth century, is not Dominican Republic gained its independence and did not go his way forward.
The economy rests on sugar exports,silver, coffee, and tobacco, but the lion's share of the budget brings tourism revenue. Today tours to Punta Cana - a great opportunity to relax in the Caribbean and to see where the beginning of the history of the New World.
When and how to fly?
Direct Flights to Punta Cana from the Russian capitalThey are charters and tickets because they can not be purchased without a package with hotel and shuttle service. Those who wish to implement an independent project and go on a tour with his own invented in Punta Cana have to fly with a connection in Europe or the States.
Gathered on a journey, it is necessary to meetWeather in the resort. The air temperature in winter and summer, here is about the same and amounts to about 30. The water warms up to 26 in winter and 29 in summer, so the swimming season on the island is also open year-round.
Affect the tour plans to buy in Punta Cana canonly the rainy season coming to the island in May. By the end of the summer rains are becoming rarer, but hurricanes - all likely. But they usually swinging the western part of the island, where the government of Haiti, and the time of arrival in the Dominican Republic look already pretty battered, but because - harmless.
Entertainment for all tastes
Dilute beach relaxation active projects during the tour to Punta Cana easy. Among the tourist favorites - tours:
In Manati Park, where you can not only watch the flora and fauna, but also to learn all the details about the life of the local Aboriginal people.
The quincentenary House Museum of Ponce de Leon built by the famous scientist, who later became governor of Puerto Rico.
In the capital Santo Domingo, where the colonial architectural style makes travel back a couple of centuries back in time and enjoy the colorful and vibrant city where winter is never.
Dominican Republic - Punta Cana
Photo