The best resorts of the Dominican Republic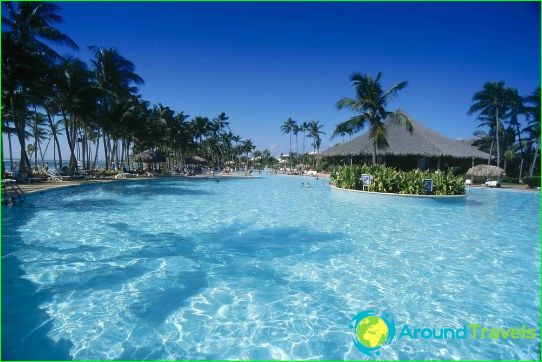 Dominican Republic - a fantastic country where summer neverends. Rest in this country is for lovers of pristine beaches, untouched nature and unique underwater world with its incredibly beautiful inhabitants. Caribbean sea with its reefs full of amazing fish and marine animals. The best resorts in the Dominican Republic offer excellent beaches with white sand, perfect clear coastal waters and tall palm trees, in the shade where you can soak up to infinity.
Boca Chico
Boca Chico, above all, famous for itsbeaches and the beauty of the sea. Comfortable lagoons, white sand, a riot of color a huge amount of coral reefs will win everyone's heart. Unearthly beauty in combination with the excellent services the local hotels make this a particularly attractive resort town. Local idyll did not spoil the distance at which the hotels are located on the shoreline. The small size of the resort and the opportunity to enjoy the surrounding landscape make a walk to the sea interesting and informative.
Juan Dolio
Juan Dolio will help make your family vacationunforgettable and saturated. Road traffic at this resort is practically absent, and all hotels are connected by pedestrian and bicycle paths, making the movement of the children completely safe.
The tranquility of the surrounding atmosphere and the comfort of homewill make notes in the holiday of peace and harmony with the environment. Magnificent beaches, surfing, bowling, golf, and other features make the resort a passion to tell in their native lands to visit this fabulous place.
Punta Cana
Punta Cana resort is suitable for nature lovers and lovers of eco-tourism. A man's hand almost touched the local scenic spots. That is why the resort is not too built up.
In a quiet and relaxing stay at the Punta Cana can beadd a little adrenaline, going on exotic jeep safari. Also offers take a fascinating boat ride, during which you can go fishing. Travel to nearby islands, during which you can meet whale remember.
Cabarete
Fans of outdoor activities and night lifedo not be mistaken, if will choose this resort destination for your vacation. A huge number of night bars, discos and entertainment centers will make you forget about sleep, and pulled into the vortex of the highlights and pleasant experiences.
Besides beautiful beaches and a variety of nightlife, Cabarete is known for its reasonable prices, which perfectly suited his main contingent - noisy youth companies.
Photos of Dominican Republic resorts