Santo Domingo - the capital of the Dominican Republic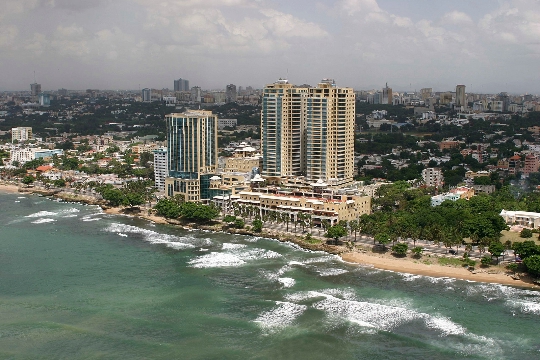 Lucky Santo Domingo with the founder - it wasBartholomew Columbus, brother of the great discoverer of America. It is known the exact date, when it became the capital of the Dominican Republic (Dominican Republic) on the world map - August 5, 1496.
Other names
The first name of the town sounded very pretty and feminine - New Isabella, then in 1502 it was replaced by a modern, which means "Holy Resurrection".
There was a period in the twentieth century, from 1936 to 1961.When the usual name was replaced by a new, difficult-sounding for the Russian-speaking man - Ciudad Trujillo. To the delight of all the inhabitants of the capital was returned to its former name.
Orientation map
Conventionally, the city is divided into two main parts -east and west. In the western concentrated business and cultural institutions, tourists might be interested unless the restaurants and cafes. In the eastern part of Santo Domingo is the historic center of the capital. Here are the most interesting tourist places and objects:
Columbus Lighthouse (Bartolomeo, of course);
famous local Aquarium;
caves, which are part of the National Park.
In the historical center of interest of the guestscause architectural monuments that bear the defensive in nature, such as the forts of Concepción and San Diego, La Fortaleza Fortress. The second guided tour may include familiarity with the famous palaces, including the so-called Fortress of Columbus, an ensemble of buildings in colonial style Atarazana.
Attractions Santo Domingo - Columbus Lighthouse, here is the mausoleum where the founder of the city found a final resting place, the National Pantheon.
museum history
Travel agencies museum Santo Domingocan reveal a lot of secrets and mysteries of history. The most popular tourist destination - a colonial museum, behind him a Dominican. The Centre of French culture will talk about migrants from faraway France, and their impact on the economy, politics and culture in the country.
Children's audience will fall like a museumLa Caleta, where there is a wonderful underwater park, as well as the Museum of History and Geography, which will introduce the famous seafarers and their important discoveries. And even more vivid memories of the younger generation will leave an acquaintance with the inhabitants of the local zoo and aquarium.
Dominican Republic - Santo Domingo
Photo