Diving in the Dominican Republic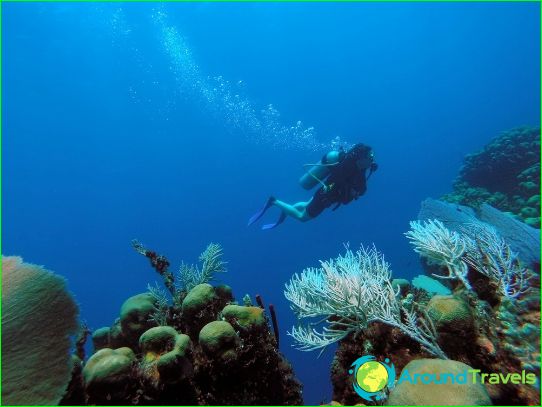 The Dominican Republic is known as one of the mostpopular dive sites in all the Caribbean. Coral reefs and underwater "lawn", where live numerous species of tropical fish, sharks and rays, whales, humpback whales and manatees, as well as the magnificent underwater caves - this is diving in the Dominican Republic.
The peculiarity of the Dominican are divingNumerous wrecks. Gone to the bottom of the ships date back not only to the past century. Here you can see the old ships that took part in the naval battles of the time development of the Americas. Sea depths Dominican store a the remains of 400 ships had gone to the bottom of the last five centuries.
Catalina Island
This island is considered one of the best dive sitesCaribbean. The underwater landscape is decorated with unique gardens consisting of hard and soft corals. It is home to multi-colored tube sponges and small fish.
National Park
Depths of dive site not exceeding fourteenmeters, but the place is compared to many divers underwater paradise. Different varieties of coral reefs and great flocks of bright tropical fish create incredibly beautiful underwater landscape. During the trip you can meet a huge crab, decided to bask in the gorgonian and can stumble on an old cannon, surrounded by nuclei.
Bayahibe
A small fishing village, located on thein East National Park, attracts divers their REKOM - sunken freighter. The ship has been trained and divers have a unique opportunity to explore its interior. These racks are located in the waters of La Galeta.
Cave Padre Nuestra
Very interesting place. The cave entrance hide dense thickets of the jungle, and a grotto, an employee entrance, is simply amazing with its magnificence. Padre Nuestra suitable even absolute beginners in diving.
Although the cave is completely flooded, but can emerge in its distal end, to admire its unusual structure.
Cave La Sirena
Done unique dive site. The cave is considered to be the most interesting for diving, allowing to admire the amazing beauty of the underground world. In order to explore all its tunnels and caves, one dive is not enough.
Picture, appeared before the eyes of a diver,will forever remain in the memory: hanging plant vines that cover the entrance to the cave and totally transparent water underground lake, the sun's rays are painted in a wonderful turquoise color. From the ceiling the edges of the cave stalactites coming down, shimmering in the glow of the underwater lights. Underwater divers passage leads to the hall filled with different densities of water - salt and fresh, so you can see a rare phenomenon - the halocline (a mixture of salt and fresh water).
Photo