Entertainment in the Dominican Republic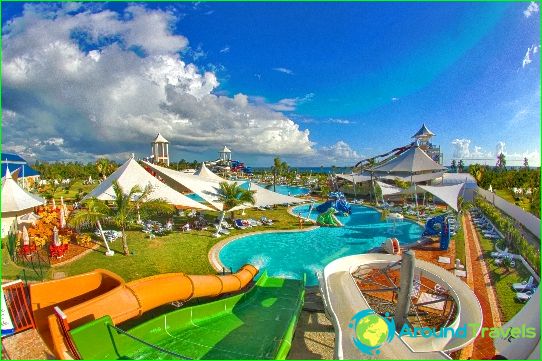 Resorts in Dominican Republic - a wonderful place, where will not be bored, day or night. So, what entertainment you expect in the Dominican Republic?
Manatee Park
If you choose a holiday destination of Punta Cana, in theThis amusement park is sure you will visit. It will appeal to all. And lovers stare at the bright entertaining show, tricks and animal performances of dolphins and admirers of quiet leisurely walks in the shade of trees. One part of the park is a beautiful botanical garden, where they feel great variety of exotic plants. During the walk should definitely look into the village and see the Taino aboriginal dances, as well as buy souvenirs for your friends and family.
Since Manati Park is quite large,Walk on it will take at least half a day. So hungry guests happy evaluated kitchen local meat restaurant, stylized cowboy ranch.
Marinarium
This underwater park is located directlyin ocean waters. Marinarum enclosed with special mesh that does not allow predators to enter its territory. During the dive you can swim among curious swarms of tropical fishes and even touch a live stingray.
The park itself is an artificial island,so if you want you can just lie in a comfortable deck chair and take a generous portion of hot Dominican sun. You can get here on a special boat, after buying tickets to any of the travel agencies in Punta Cana. The only restriction: children under 13 years old are prohibited travel on the island.
Nightclub Imagine Punta Cana
Night - not the time to sleep, and a great excuse to go to the most famous nightclub. It is located inside a rock and takes as much as three caves connected by passages hacked.
The majority of visitors - tourists, but also localresidents also come to have fun and dance bachata. Since the club for three rooms, then on each of the three dance floors playing your own music, and everyone will find what he loves most. The same goes for the bar drinks.
You can get here by an organized group, but it is best to go unaccompanied, as in this case, the entrance will cost you in its real value - $ 10.
Jaragua National Park
This is one of the largest reserves in the whole territory of the Caribbean. The park covers a vast area of ​​1500 square kilometers, of which 900 are marine expanses.
Truly a huge area of ​​the park canto offer our guests choose the most convenient location for relaxation. Here and there are beaches with clean sand and rocky beaches, and reefs, and even caves, rivers and swamps. You can get here on its own, and by joining any of the tour groups.
Photo