Rest in the Dominican Republic in December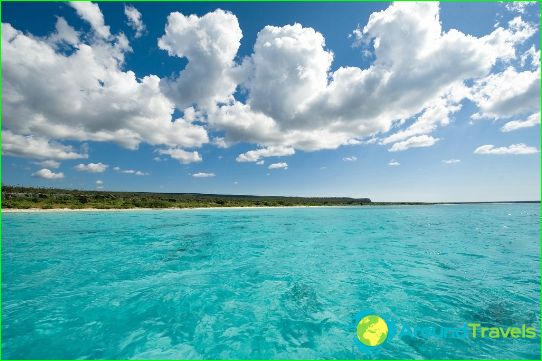 Dominican Republic - a great place forof the New Year's holiday. It is ideal for people who like to relax on the shores of the ocean, visit the original parties, and this at a time when our country is in a fierce winter.
The most popular recreation areas in the Dominican Republic: Cap Cana and La Romana. In these places is always a lot of tourists, especially in the end of December, on the eve of New Year and Christmas holidays. There are so many hotels that are perfect for families with children.
Celebrate New Year's holidays in the Dominican Republic
Most popular todaytourist destination - a Christmas tours to exotic destinations. Rest in the Dominican Republic in December - it's a great option to spend your New Year's holiday under the palm trees on the coast. The country is considered to be more than the New Year holiday for the visitors, but Christmas is celebrated all the locals. Holidays here usually last a few days. During this period, you can watch the impressive folk festivals, parades, and visit numerous fairs with big discounts on products.
If you have decided to have a rest in the Dominican Republic in December, we advise you to book your trip in advance - then you can buy an inexpensive tour of the special offers.
Where to go in the Dominican Republic in December
One of the most interesting places to discoverthe month of December is the city of Punta Canna, where a lot of tourists from different corners of the earth is yearly. Also very popular with travelers and is considered to be the city of Santo Domingo, which is the capital of the country. Here you can admire the houses in colonial style, ancient ruins and medieval monuments.
It will be interesting in the Dominican Republic and thepeople who love unspoiled picturesque nature. We also encourage you to visit one of the most famous national parks in the region, which is called the Saona Island. They live starfish, flying fish, dolphins. Also on the island it is Altos de Chavon - an ancient city with well-preserved ancient buildings.
Weather in the Dominican Republic in December
December in the Dominican Republic - is the optimum time to relax. The average daily temperature is + 25 ° C, + 20 ° C overnight, and the temperature of sea water + 23-25S.
Photos vacation in the Dominican Republic