Rest in the Dominican Republic in February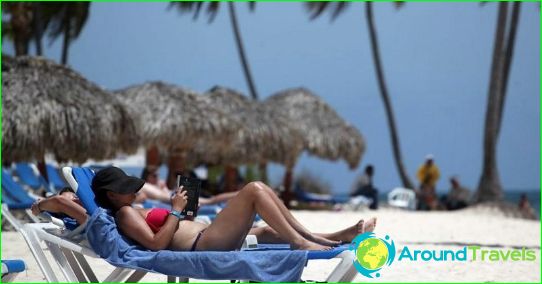 Rest in the Dominican Republic in February, is ideal for those who prefer an active pastime. You are waiting for carnivals, spectacular beaches and spicy cuisine.
The most famous recreation areas in the Dominican Republic - Samanaand Puerto Plata. There is always a lot of resting people from different countries. Especially at the end of February, when the whole of the Dominican Republic is in anticipation of the world-famous carnival.
In the republic in February only one officialholiday called the Day of independence of the state. But as soon as he begins the most spectacular event in the Dominican Republic, is looking forward to both visitors and locals - famous Dominican Carnival.
What to visit in the Dominican Republic in February
For those who prefer eco-tourism,We recommend to spend your vacation at the ranch. There you will be able to communicate with the natives, watch how to grow mango, cocoa and coffee, as well as to try to do a variety of local crafts.
Saône Island is a national park. This year a lot of people come to visit the famous city called Altos de Chavon with its houses made of stone. In this city, you can soak up the sun on the pristine beach, see starfish, dolphins and flying fish.
"Los Gaitises" - a protected park in whichYou can also watch the untouched nature of the Dominican Republic. The park is very well known and a large cave stalakitov called Fung Fung.
If you like sightseeing, then you should definitelyyou need to visit in the city of Santo Domingo, which is the capital of the Dominican Republic. The city is protected by UNESCO and is considered the heritage of humanity. In the capital, you can see a lot of monuments, buildings in the colonial style and ancient ruins.
You can also visit Punta Cana. It is a city in which every year comes a lot of travelers. In Punta Cana is a nature park called Manati.
Weather in the Dominican Republic in February
If we have at this time lyutuyut February frosts,the Dominican Republic in the average temperature in February is approximately + 25-27S - it is in the daytime. At night - about + 20C. The sea water temperature is + 21-24S.
Photos vacation in the Dominican Republic