Rest in the Dominican Republic in November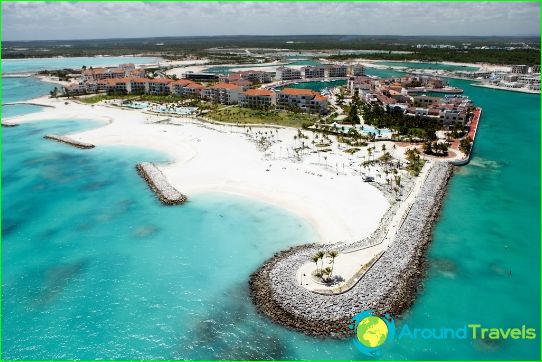 Despite the fact that the last month of autumnaccounted for the dry season, rain will not escape. Precipitation is reduced by one-third, so it may be just 10-11 rainy days in November. Rainfall is usually short-lived, so the rest can be saturated. The lowest risk of showers in Azua de Compostela. The most significant risk - in the capital.
Temperature conditions conducive to rest. The heat recedes, so that the rest can be really interesting. Day temperature in La Romana and Santo Domingo is + 30-31C, in Puntakane + 29C. The north coast is characterized by lower temperatures. In the evening, in all regions of colder to + 19-21C.
How to spend your vacation in the Dominican Republic in November
Beach vacation. Weather in the Dominican Republic allows you to fully enjoy the gorgeous beaches, for exhausting heat is no longer attacked, and the sun spoils the entire seven hours a day. However, sun exposure is different crafty, so the protection should be remembered. The water temperature is lowered to a comfortable performance, and it is up to + 27C. These conditions are ideal for swimming, because the sea is able to freshen up a bit. In November, the sea offers tranquility, but should be aware of the threat of storms. When planning to go to the beach, you should familiarize yourself with the short-term weather forecast. Atlantic coast of the Dominican Republic attracts many surfers because the waves can reach a height of six meters and their subjugation becomes really interesting.
Excursions. The Dominican Republic is famous for its natural attractions, which can be found even in November. Saône is a unique nature reserve, where you can see starfish, dolphins and flying fish. Tourists here can sunbathe on beaches and chic to live in small houses, enjoying harmony with nature. Catalina island attracts with its beauty. Importantly, Catalina tours allow for lunch on a small ship. Just imagine how interesting can be a pastime. A stay should be in the nature reserve Los Gaitises, famous stalactite cave Fung Fung. Dominican Republic attracts natural attractions, which is required to meet.
Holidays. In the Dominican Republic are the following holidays in November: Day Saints, the date of adoption of the Constitution, flower festival.
Photos vacation in the Dominican Republic