Kitchen Dominican Republic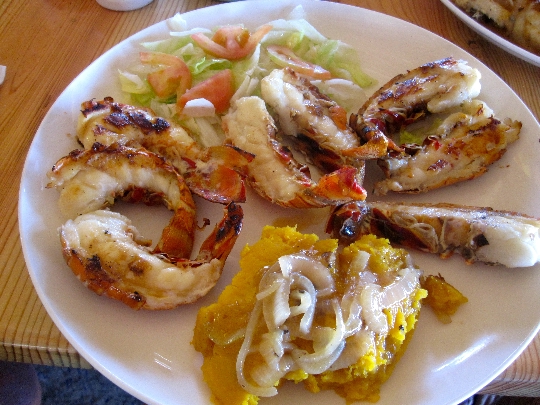 Kitchen Dominican Republic - a Creole cuisine: it was influenced by local, African, Spanish and Caribbean culinary recipes.
National cuisine of the Dominican Republic
In the Dominican Republic, you will have the opportunity toeat exotic dish in the form of pig carcasses, whole braised in a pit. A characteristic feature of national cuisine - use when cooking bananas (for frying are taken pretty hard and green bananas "Platano"), legumes and vegetables, which originally combined with fish or meat products. From dishes based on seafood should give preference to fish, fried in coconut flakes. Addition to the main dishes often serves as a side dish of red beans, manioc, rice, vegetable salad and mashed green bananas. It is worth noting that during the meal on the table always exhibited cakes "Kasaba" (they are made from cassava root).
Sweet lovers should try the local pastries stuffed with exotic fruit, milk porridge with tropical fruit and coconut jam.
Popular dishes Dominican / Creole cuisine:
"Asopao" (soup with rice, vegetables and chicken - its supply is carried out with the fried bananas and of oranges sauce);
"Sankocho" (stew with different kinds of meat, vegetables and spices - for pungency in it, as a rule, add chili or Tabasco);
"El Moro" (a dish of braised pork, beans and rice);
"Pescado con coco" (fish in a sauce based on coconut);
"Cangrejo gisado" (crab cooked in a special sauce).
Where to try the national cuisine?
It is necessary to take into account that in restaurants the tip of the Dominican Republic, as a rule, included in the bill and make up about 15% of the total booking amount.
In Santo Domingo, you can eat in the "AdrianTropical "(here the guests were treated to delicious food and allow them to enjoy the view of the ocean, sitting at a table on the terrace), in Punta Cana - in" Kukua Beach Club "(here the guests are invited to savor Spanish dishes with Creole overtones, as well as beautiful views beach Macao).
Cooking classes in the Dominican Republic
If you are going for a vacation in Punta Cana, necessarilycheck out the restaurant "Las Torres" - he pleases visitors with Dominican cuisine and low-calorie dishes, as well as themed dinners. In addition, the chef of this restaurant often holds cooking cuisine master classes for all comers.
Visit the Dominican Republic recommended duringthe Festival of organic coffee (October, Polo), the Festival of mangoes (June, Bani) Gastronomic Festival (September, Sosua) culinary festival "Taste Santo Domingo" (October Santo Domingo), where visitors will be able to see the show cooking and enjoy the Dominican wine and meats.
Photo