Metro Santo Domingo: diagram, photo, description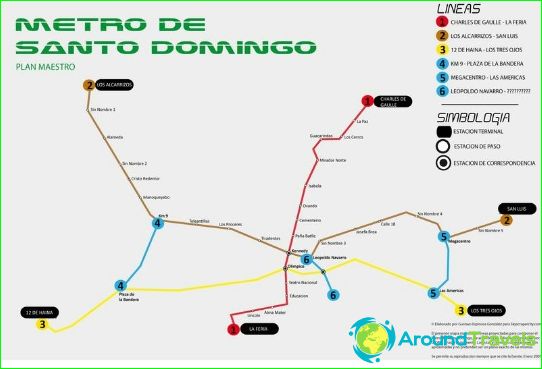 The system of public transport incapital of the Dominican Republic, Santo Domingo Metro was put into operation January 30, 2009. Today, Metro has one active since then and recently opened a second line, the total length of almost 25 kilometers. On routes thirty stations operate passenger needs, and the day the metro Santo Domingo is able to carry up to 200 thousand people. Part of the route is constructed in the form of elevated lines, others - laid underground. Five stations located on the surface, the remaining - underground.
The current "Blue" twig metro Santo Domingo begins in the north of the city stantsieyMamá Tingó. Route Line 1 runs in the direction of the south and ends with a stop Centro de los Héroes.
The second line is laid from the center of the Dominicancapital in the east. She linked the main attractions of the city to the airport. Her mark on the red patterns, and the total length of the route was 10.3 km 2. According to the designers of the "red" line will be extended to the east.
The metro Santo Domingo apply trains of three cars. All in all lines of work for nearly four dozen, and all of them are manufactured by Alstom.
All subway stations are Santo Domingonames of famous personalities of the Dominican Republic. For example, the Railway Station of La Paz called Gregorio Urbano Gilbert, and Buena Vista II station is named Gregorio Luperon.
By Metro Santo Domingo you can get to the parkMirador Norte and to the National Cemetery. Stop of the subway station allows access to the John F. Kennedy and the National Theatre. Metro - a great way to visit the University of Santo Domingo, the country's Ministry of Education.
Metro Pictures Santo Domingo