Rent a car in the Dominican Republic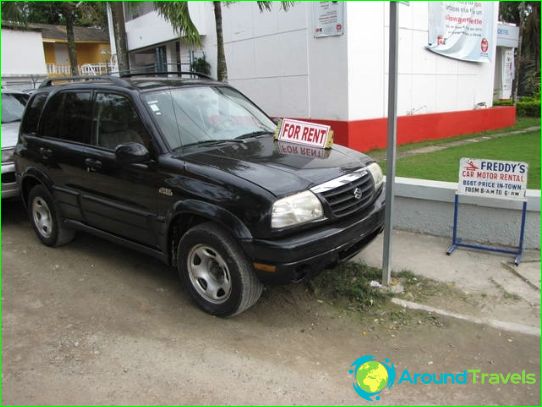 Dominican Republic is not so popular with ourtourists, as, say, Turkey or Western Europe. However, in the Dominican Republic there is something to see, and the most beautiful and diverse vacation can happen if you take a rental car. Only it is necessary to know some local peculiarities. For example, armored vehicles rolled into the company it is necessary before the trip, otherwise you risk getting a very expensive car, or a frank Rydvan, though at a modest price. This is especially true in high season. By the way, agree initially and the presence of the child seat when traveling with children, as it should be for you specially, "lay up".
Rent a car in the Dominican Republic from you will require:
driver's license;
passport;
age of at least 21 and in some offices - 25 years;
insurance purposes.
It is advisable to agree on a full insurance, which will cost about 10-20 euros per day. But it will protect from the slightest scratch.
How to travel around the Dominican Republic
High-speed mode in the cities will be from 25 to 60miles / h. And the country is necessary to look at the signs. Note that many of the cars, found on the road, ride in a faulty condition. At the same time check and the car that want to rent while on the road, be very careful. For drivers in the Dominican Republic often do not comply with traffic rules. Most do not include the turn signal, if any machine has. And when it is not, it is not always waving a hand at the turn.
If you're driving around at night, youshould beware of animals that periodically run out on the road, and large potholes. Keep in mind that the country roads are poorly lit in the Dominican Republic. But a right turn at a red light are allowed to do here.
If you rent a bike or moped and leave it on the street, be sure to fasten on, or instantly theft.
Circling attractions Dominican Republic, havein mind that they are concentrated in the capital, Santo Domingo, and in large resorts. Many of them have natural character. But among the notable historical sites, inspect buildings of the colonial period. In the capital you can see the palace that belonged to the son of Christopher Columbus, to visit interesting museums where you tell about the history of the country and the tribes of Indians Taino, who long ago inhabited the territory. The most interesting buildings of the capital - the Cathedral and a military fortress Osama.
An interesting attraction is andnumerous caves Dominican Republic. For example, a cave the Three-eye, which has a multi-colored lakes. In Puerto Plata there is a cave of wonders, where well-preserved cave paintings of Indians.
Beautiful parks of the Dominican Republic: the Botanical Garden of Santo Domingo, rainforests, Orchid Garden, Japanese Garden and Rock Garden.
Photo