Resorts in Dominican Republic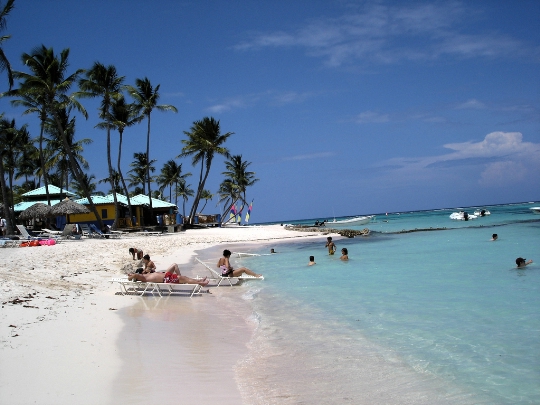 The classic image of a commercial fortourists usually includes white beach, stretching beyond the horizon, shimmering turquoise sea and the emerald green of tropical palm trees leaning over a hammock, sipping a cocktail in which a beautiful mulatto. All these attributes of heavenly rest present a complete list of the resorts of the Dominican Republic, warmly welcomes its guests with the sounds of merengue already at the ramp.
"For" or "Against"?
Arguments against the rest in the Dominican Republic to find a verydifficult, because even a long flight and not too pleasant price tag on the ticket can not overshadow the joy and pleasure of immersion in a real relaxation on a tropical island:
Change of time zones? Temperamental Dominican dances will not allow the traveler to confuse day and night, if only he did not wish it.
Exotic cuisine? Where else will be able to try a mango ripeness of the fruit itself falls into the hands of passers-by?
Slowness of the locals? A few hours after arrival wish to relax and get pleasure from the rest will cover any tourist with a head, and so a few extra minutes of waiting cocktail or plates with a freshly prepared lobster seem a pleasant prelude to the main pleasure.
If after such arguments have remaineddoubt, add to the list "for the" warm sea, beautiful scenery, nice holidays and customs of the local people and finally drop the doubts about traveling to the Dominican Republic resorts.
Always in the TOP
Punta Cana - Dominican resort is likedescended from the handout: a snow-white as flour sand forest of coconut trees, blue sea and the most famous hotels in the world's networks. Three dozen kilometers of beaches can be found, and noisy, and secluded, but because this resort in Dominican Republic suited perfectly to all travelers.
For those who like to watch the life of localpeople, great resort La Romana fit. Near the town are preserved fishing villages where you can try fresh seafood in restaurants, equipped directly on the beach.
You can rent jet skis or a boat onDominican Republic resort is located near the international airport. In Boca Chica ideal conditions for active beach activities, and a large lagoon off the coast of the resort allows you to safely swim and the youngest travelers.
Photo