Where to rest in the Dominican Republic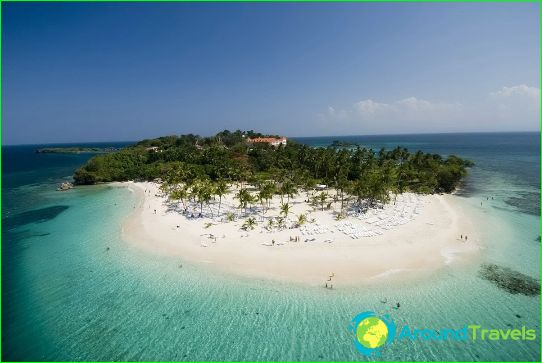 Dominican Republic - an exotic region of bright colors,Latin American dances and endless beaches. The magnificent architecture, ancient history, a unique way of life - it all appears before each tourist.
Dominican Republic is located on the island of Haiti, surrounded by the Atlantic Ocean and the Caribbean Sea. Now let's find out where it is better to go for a vacation in the Dominican Republic?
Resorts in Dominican Republic
In this wonderful place to relax many good resorts. Whichever you choose, clean beach and warm sea will welcome you warmly.
Perhaps the most remarkable resort area ofall - Santo Domingo. In this first city of the New World are all well-known historical and cultural monuments. Small narrow streets and the ruins of the old charm of its architecture, I want to walk for hours, watching the neighborhood. Local hotels provide a decent standard of living.
Spa Playa Bavaro stretched along the entirethe Atlantic coast. At this point, wild jungle next to the hotel and the coast resembles a tropical paradise. At every step there are coconut trees, calm water surface gives a serene mood. Here you can relax with your family or in splendid isolation, settling in any hotel, which is right on the beach.
And Sosua - wonderful beaches and a lot of tourists who are fond of diving.
Excursions and Entertainment
If you are in the Dominican Republic, be sure to visit the following places:
In Santo Domingo, there is an unusual Cathedral - BasilicaHigvey. Its appearance resembles the arch, strung on each other. A clear understanding of the colonial times give Columbus Park, El Alcazar Palace, Cathedral of St Mary - all this can be seen in Santo Domingo, capital of Dominican Republic.
Lemon Falls - remarkable place. According to ancient legend, bathed in it, to get wealth for a lifetime.
The ability to find the jet be presented when visiting the Amber Coast, stretching along the northern coast.
If you're lucky, in the Bay of Samana Peninsula can be found humpback whales.
Youth will receive bright impressions from the visitdiscos Punta Cana, because it takes place in this cave has several rooms. Various music and interesting entertainment program will make to dance until dawn.
Photos vacation in the Dominican Republic