Haiti Island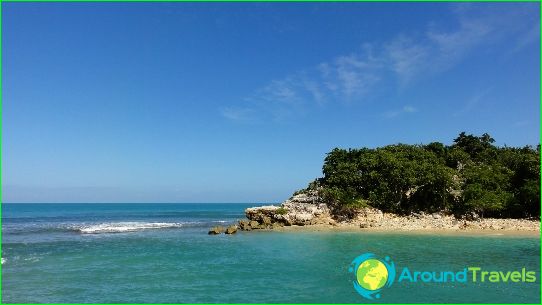 Among the islands of the Greater Antilles archipelagostands the island of Haiti, which occupies the second place in the area. From the island of Cuba it is separated by about 100 km. Outdoor Atlantic Ocean washes the north coast of Haiti. The southern part of the island has access to the Caribbean Sea. Haiti also called Hispaniola Island, which translated into Russian means "Spanish". This name given him by Christopher Columbus.
The island, along with the nearby rocks andislands is 76,500 square meters. km. This surface is divided between the Republic of Haiti and the Dominican Republic (Dominican Republic). The Republic of Haiti is inhabited mostly negros. White and mulattos make up only 5% of the population. The Dominican Republic is dominated mulatto. Negros and whites about equal numbers account for 27% of the total population. City of Port-au-Prince is the capital of the Republic of Haiti. The main city of the Dominican Republic is considered to Santo Domingo.
Geographical characteristics
Haiti and the nearby Jamaica, Cuba andPuerto Rico is a freeboard of the North-Caribbean undersea ridge. It was formed by the collision of geological plates. Islands of the Greater Antilles group, are of volcanic origin. Haiti Island has a complex shape. Its winding coastline forms numerous bays and coves. The island has a mountainous terrain in the central and western regions. The highest point of Haiti and the Antilles archipelago is considered to Pico Duarte mountain towering above the sea level at 3087 meters.
Climatic conditions
Haiti is tropical climate prevails. Temperature is not dependent on the change of the seasons. The island is always warm. On the coast, the air temperature ranges from +22 to +27 degrees. In the central part, which does not penetrate the trade winds, the air has a temperature of about 30 degrees or more. During the year, the area of ​​land in the ocean becomes a place of large amount of precipitation. Rains in the form of tropical storms. In August and September the island of Haiti is exposed to typhoons and hurricanes, which are formed in the Caribbean Sea.
Natural features
Haiti The island is covered with tropical evergreenforests. There is growing more than 100 species of woody plants, which include rosewood, palm, etc. yamasinovaya. The fauna of the island is no different variety. Among the mammals are found rodents, bats and pets. Near lakes and rivers inhabited by lizards and crocodiles.
Photo