The traditional cuisine of Luxembourg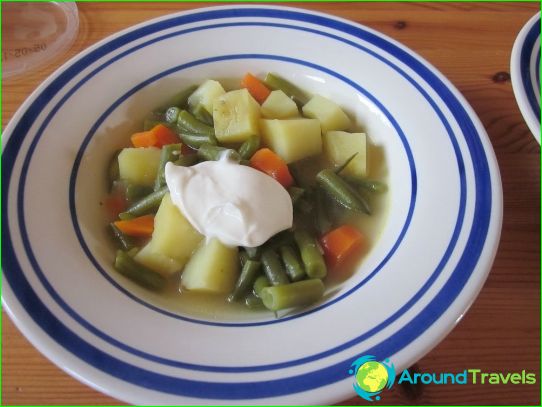 Meals in Luxembourg is characterized by relatively high prices compared to many other European countries.
Food in Luxembourg
In Luxembourg the kitchen had a considerable influenceGerman, Belgian and French culinary traditions. Diet Luxembourgers consists of fish, meat (beef, pork, venison, chicken), seafood, soups, cereals, vegetables, cheeses.
In Luxembourg Ardennes ham is taste;Veal liver dumpling; soup with potatoes, bacon, green beans, onions ( "bunshlupp"); flood piglets in jelly; blood sausage with mashed potatoes and radish ( "traypen"); goose liver; chicken cooked in white wine; dish of corned beef and potatoes ( "labskaus"); roast rabbit; smoked pork with boiled beans; vegetables and meat cooked on the grill; river fish, deep-fried; frog legs with garlic sauce ( "froshshenkel").
A sweet tooth will be able to eat localchocolate and chocolates, cakes and buns, cakes, all kinds of pastries and pretzels, bread rolls with sweet fillings, cakes with fruit and berry fillings.
Where to eat in Luxembourg? At your service:
cafes and restaurants European cuisine;
national restaurants have Michelin stars;
Finca restaurant "Chigheri" (there is a cafe, several restaurants, bar and brewery);
bistros, snack bars and other fast food places.
Drinks in Luxembourg
The most popular drinks are the Luxembourgerscoffee, tea, fruit juices, beer, wine, liquor. In Luxembourg, you can try the beer "Clausen", "Diekirch", "Battin," "Simon", the wines produced in the valley of the Moselle - "Riesling", "Beaufort", "Krekhov", "Kemih", "Elbling", " Vormeldang ", as well as a variety of fruit wines (black currant, apple, plum, pear) and plum liqueur Quetsch.
Gastronomic tour in Luxembourg
you can go on a trip If you wish forExpensive wines - on the way you will meet the vineyards, wineries and cellars where you will be able to come and taste the wine, and small restaurants - the culinary delights. In addition, as part of this tour you will learn about the history of the region and wine, as well as visit the wine museum in the town of Henin and small medieval towns.
Resting in Luxembourg, you will be able to enjoy the architectural perfection of the Duchy, natural attractions (beautiful landscapes, mountains with cave entrances), Luxembourg dishes.
Photo Luxembourg national dishes