Prices in Luxembourg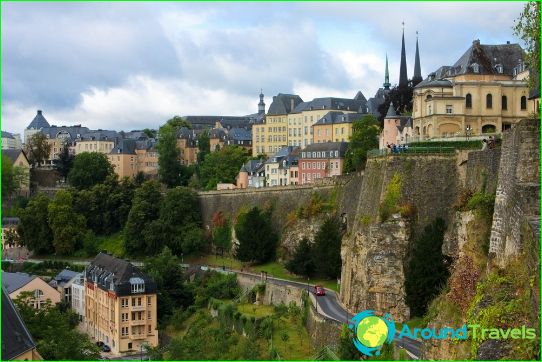 Luxembourg refers to the number of the ideal of European states. It is a prosperous country with a high standard of living. It is part of the Schengen area and the European Union.
Prices in Luxembourg can not be called low. But traveling around the country can be inexpensive if you wish. If the traveler on a tight budget, it can meet the $ 30 per day. To stay a comfortable and fun - variety, these costs should be doubled.
In Luxembourg, was previously used LuxembourgishFrank, who was regarded as a reliable and stable currency. Today on the territory of the State to actively use the euro. Luxembourg has the highest standard of living in Europe. Therefore, there is a perfect vacation quality. Almost all goods and services are of consistently high prices.
Accommodation
If comfort is a necessity for you, thenrefer to the services of hotels of higher and middle class. Luxury life in Luxembourg is possible if you are willing to spend at least 150 euros a day. The 4 * hotels have rooms for 90-150 euros per day. 5 * hotel offers rooms for 200 euros per night more expensive. The best hotels in Luxembourg located in the center, next to the embassy building. restaurants and fitness centers where you work.
Catering in Luxembourg
National cuisine of the country is no different fromEuropean classical dishes. Tourists are recommended to try the liqueurs, wine, black currant and Moselle wines. Prices of food products high in Luxembourg. Common dinner in the restaurant of the middle class is not less than 25 euros. Café Luxembourg you can eat for 15 euros.
Kitchen country is famous for fish dishes. The chefs prepare amazing trout, perch, pike and crayfish. Popular dishes include flood piglets, Ardennes ham, smoked pork spine and other dishes.
Excursions in Luxembourg
The tourists should definitely visit LuxembourgNotre-Dame Cathedral, National Museum of History and Art, Esling area and other facilities. The country's capital is made up of the New Town and the Upper Town, which are full of attractions. The cost of the review of the excursion program starts at 115 euros per person. Tours to historical sites of the state for 1 day costs 900 euros. The gastronomic tour with visits to wineries, cellars and vineyards is about 800 euros.
Luxembourg Russians usually visit for a combined tour program. They also inspect the other Benelux countries - Belgium and the Netherlands.
Photo