Luxembourg Streets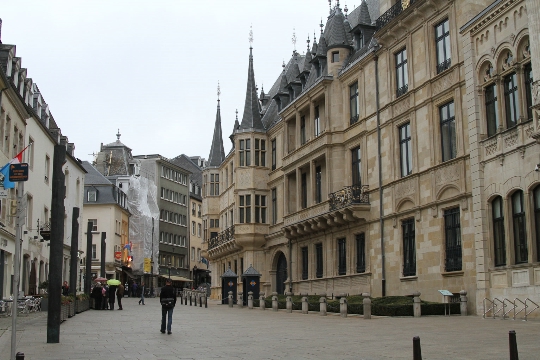 Luxembourg - a small historic town, whichI was able to purchase a special popularity because of its amazing architecture. At the same time, in order to get the maximum enjoyment from your stay in the city, it would be good to understand in advance what the streets of Luxembourg deserve your attention. Wanting to properly think through their own pastime, you can find out which streets are interesting for sightseeing, and which involve shopping activity.
The most interesting streets
First, you need to visit the Upper Town, which looks interesting and unusual. From the town square Place d'Arms best way to start a fascinating walk through the city of Luxembourg.
Place d'Arms - known area, which is perfectsuitable for couples. Here you can taste the sweetness and look for interesting souvenirs, beautiful handmade clothing. Besides, it's best to start from here to search for famous landmarks, including the Cathedral of Our Lady of Luxembourg, which was built in the Middle Ages, the Church of St. John the Baptist, the ancient chapels.
What places in Luxembourg also deserveattention? You should visit the area of ​​Wilhelm II and the Plaza of the Constitution, because these places are the hallmark of a cozy Luxembourg. Also very interesting bridges of Luxembourg, the list of which is different vastness. Each bridge is a unique structure.
Another well-known and interesting place totravelers - Gamilius area, where there are numerous bars, cafes, restaurants and shops. Gamilius On Wednesdays and Saturdays the market works. Nearby are two pedestrian streets - Post and Monterey, where you can see beautiful medieval buildings, made in different styles of architecture.
Luxembourg's Spirit make you feel old quarters Klose, Hron, Fafendal, Diselpyurt and Fish Market area.
Popular travel destinations in Luxembourg
Perhaps you are interested in shopping streets in Luxembourg, because shopping is able to be the basis for an interesting pastime?
Untershtadt (Lower Town) - main streetis the Avenue de la Gare, which attracts clothing boutiques, jewelry shops selling electronics, photographic and video equipment. It is important to note that prices in these shopping centers is very acceptable.
Grand-Rue attracts many shoppers. In addition, you can visit the café-bakery and taste delicious cakes, do some shopping in the souvenir shops.
Obershtadt (Verzny city) - trade area in Luxembourg. The main focus are the leather goods, clothing and shoes, luxury porcelain.
Now you know where the best place to visit in Luxembourg.
Photos Luxembourg streets