Airports in Mexico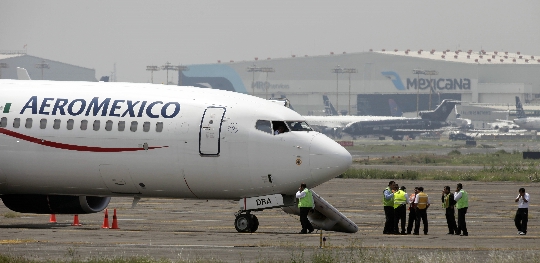 Considerable distance in Mexico preferovercome through the air, without risking to be in the desert with a broken car. Domestic flights are not too expensive and easy to use, because the airports in Mexico - this is a great list of dozens of names.
Russian tourists arrive in Cancun or Mexico City,where the largest air gateway of the country. In the first case, while in the direct flights of "Aeroflot" the way will be 13 hours and have to get to the capital on the chaise - with connections in Europe or in the States if a passport is decorated with an American visa.
International airports in Mexico
Status of international capital in addition to the airport in Mexico are a few:
Air Harbor Manuel Crescencio locatedon the southern outskirts of Merida. The city where the airport is located, the center of the Mexican tour tourism in Yucatan. The sides of the national carrier Aeromexico operate daily flights from here to the capital, the resort of Cancun and other major cities, and the Americans and Italians summer season here in Dallas, Houston, Rome and Milan. The best way to get to the center of Merida - taxi or rent a car in the arrivals area.
Mexico Airport in Puerto Vallarta onPacific Coast - one of the three largest in the country. It caters to travelers in the Western Hemisphere, and receives flights from the US, Canada and UK. The popularity of these overhead gates due to the proximity of the beach resort.
25 km from Juan Alvarez Airport to AcapulcoTravelers overcome at one go. Still, after the luxurious beaches of the Mexican resort like a magnet attracts fans of outdoor activities at any time of the day or night. International flights operate here United Express Airlines from Houston and Air Transat from Montreal, and internal - national carriers from Mexico City and other cities in the country.
metropolitan area
Mexico's Benito Juarez Airport is located ineastern part of the capital and has two terminals for passengers. The terminal 1 receives, including intercontinental flights from Europe, and the second is designed for aircraft arriving from South America and other states of Mexico.
The peculiarity of customs clearance in Mexicanairports - press the button that lights up in response to green or red. This is - pure lottery, but in the second case the baggage is subject to the full and unconditional inspection.
Transfer to the city is possible by metro, taxi orbuses. All options are readily available at the output terminal. Taxis should choose licensed, and the subway at rush hour may not be allowed with large suitcases or oversized luggage.
Details of the airport on the site - www.aicm.com.mx.
On the beaches of the Caribbean
Flights from Europe takes Terminal 3 Airport,Cancun. Transfer to the city or to your hotel by taxi is convenient. Stand prepaid located at the exit of the terminal. Beyond this - the bus stop where you can go to the center of Cancun.
Photo