Beaches in Cancun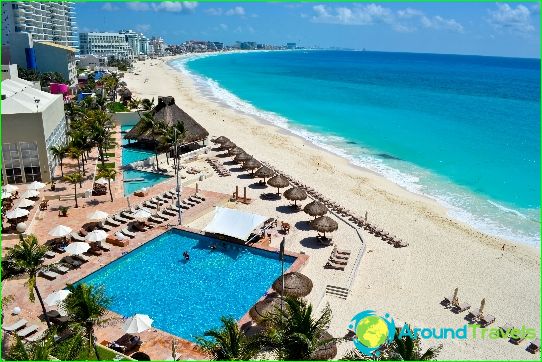 Cancun - the famous Mexican resort,revered throughout the world. There is a gorgeous and very clean beaches, striking azure sea and the wonderful warm sun. Beaches of Cancun should be distinguished, because among them there are extreme - with a strong current big waves and there - the usual, with calm water. So, off to the best sandy beaches of Cancun.
Isla Mujeres
It is a small island, only a fewkilometers from the coast. The name translates as Island of Women - there are a lot of statues of fertility goddess, revered by the Maya Indians. In the north of the island are crowded beaches, while on the south side of it - almost impassable rocky. Isla Mujeres has become a national park and protected by the state. Part of the island is resting on a rock, and some - on the coral reef, part of the Mesoamerican reef system. Its venerable age - about 125 000 years. Divers, rushing here from around the world are still looking among the coral treasures of the ancient Maya.
Of interest is an underwater museum island Crafted by sculptor Jason Taylor. It is located in the waters of the marine park. Strange statue like live at the bottom.
Playa del Carmen
To the south of Cancun is a cozy resorttown of Playa del Carmen, famous for its endless beaches. However, the water is unsafe because of the sharks. There's even held "shark" rides. Predators roam the local waters from November to March, so look at the bulls sharks in this period manages several ways. EXTREMALS offer sink to the bottom with a group of divers and swim there ... next to a pack of a huge shark. It is believed that the risk is minimal, as cannibalistic manners of fat and sluggish sharks, bulls are not seen.
And for those who are afraid, "threatens" the 15-minute immersion in a steel cage. Fear is nothing but adrenaline enough for a holiday.
Playa Delfines
Nicest beach of Cancun is located nearbyfrom Punta Nizuc. This 18-km coastline of hotels. It is called Playa Delfines - "Dolphin Beach". People come here not only to swim, but also to take pictures and shoot video. The beach is located on a hill, and on it prudently built a viewing platform. There uncommon soar skyward kites.
However, there are dangerous undercurrents. It happens and strong storm surges. Therefore, to swim too far from shore life-threatening.
caracole
It can rightly be considered "family" beach: Entrance to the water here - smooth and flat. White sand is very popular among tourists. People come here to sunbathe in the morning, but the place lacks everything, even the local masters, blown glass from silica sand figures in front of the astonished travelers. This beach can be found in the guidebooks, and under a different name - Playa Las Palmas.
Photos of Cancun beaches