Entertainment in Cancun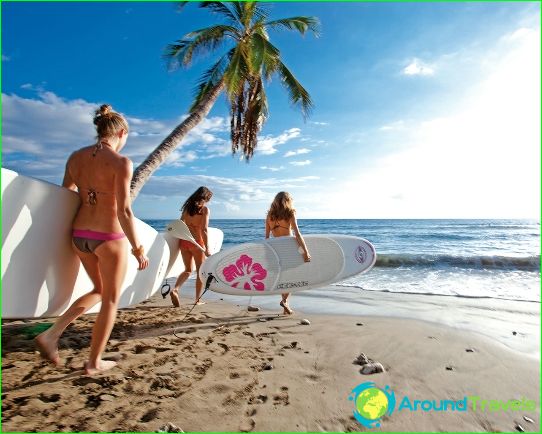 Entertainment in Cancún focused on fans of active pastime and sunbathing: offers - beaches, gyms, sports fields, tennis courts.
Amusement parks in Cancun
"Selvatica": this park will delight active travelers - they will be able to fly on a parachute, ride off-road vehicles, buggies or overcome an obstacle course on the suspension bridges, laid through the jungle.
"Explora" Extreme Park: here you can enjoy the study of caves with stalactites and stalagmites, take the amphibious all-terrain vehicle and swim to it on the water and under water, swim in an underground river, wearing a life jacket, fly over the trees on ropes.
"Parque Nizuc": here guests are offered a look at the exotic inhabitants of the Caribbean, swim with dolphins, ride on different slides, as well as to visit the area, where you can go scuba diving.
What kind of entertainment in Cancun?
Lovers of unusual entertainment is to go for a walk on the underwater motorcycle "Submarine Bob" - this tour will allow them to enjoy the underwater world.
If your goal - to visit various concertsand enjoy the colorful show, visit the Arena "Plaza de Toros". It is worth noting that on Wednesday then entertained the audience stunning fighting bulls and bullfighters with dance show charros cowboy.
Would you like to play golf on vacation? Welcome to the Golf Club "Pok-Ta-Pok". Here you will have to wait for training grounds, an 18-hole golf course, tennis courts for playing tennis, restaurant, bar, sporting equipment rental item.
And you can enjoy the nightlife in the clubs "CocoBongo "(specialty of the club - hip-hop, trance, dance music also entertained guests here show programs with special effects, performances by groups in the style of salsa and rock 'n' roll) and" Dady'O "(Club will please fans of laser shows and themed parties, such as retro-parties and bikini contests).
Activities for Children in Cancun
"Interactive Aquarium": here you can watch the sharks, including tiger, as well as participate in sessions of swimming with dolphins and sea lions.
Waterpark "Wet'n Wild": children who have visited this water park, will be able to have fun at all sorts of slides and spend time in the pool and children's area.
Mexican Folk Art Museum: Children here can not only see the wood, glass, ceramics, jewelry, masks, paintings, and attend master classes on painting and folk crafts.
Horse underwater motorcycle, parasailing, windsurfing, diving, swimming with sharks or dolphins, sport fishing, great shopping - all this awaits you on vacation in Cancun.
Cancun
Photo