Prices in Cancun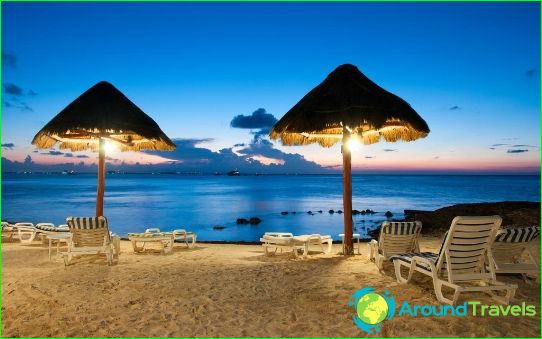 Cancun is Mexico's largest city andone of the most popular resorts. He received worldwide fame not so long ago. This city was not yet in the middle of the last century. But today - Cancun is a resort that is full of tourists. Prices in Cancun on vacation is lower than in many other resort towns. Nature here is very picturesque and the climate is mild. Therefore, among other resorts in the country is isolated tourists in Cancun. The country's national currency is the peso. But the resort for payment not only take pesos and US dollars.
Accommodation of tourists
The resort operated hotels of different classes. The prices for rooms in many of them are quite high, but the quality of service they are not always perfect. The cost of housing in Cancun rises sharply during the New Year and Christmas holidays. At other times, the reasonable prices. Place in the cheapest hostel can be rented for $ 10 per day. Star hotels offering rooms at $ 100-500 per day.
Entertainment
Costs depend on the Cancun tourist needs. If you are going to have fun day and night, you can save. People who spend their time actively, spend a lot of money. The main costs associated with entertainment and rental equipment for water sports.
Cancun has a well developed infrastructure forextreme water sports, tennis, golf and others. There may be diving, water skiing, surfing, and other entertainment. The resort is famous for its nightlife. After sunset in many places in Cancun held noisy parties. Despite this, the resort is ideal for families with children. Just choose the perfect hotel to enjoy a relaxing holiday.
Catering tourists
reasonable prices marked in the restaurants on Cancunfood and drinks. Tourists gladly bought Mexican cuisine. In the local restaurants you can taste the corn bread, fajitas, tortillas, guacamole, etc. The streets offer fast food at low prices -. $ 5-10. Eating in restaurants is more expensive. Lunch costs about $ 30 per person.
What to buy in Cancun
Area shopping is next to the beach arearesort. This area of ​​Caracol, where there are more than 200 stores. Good shops have also Nautilus Square. Prices in shops Cancun lowest on the coast, because the sellers do not pay local taxes. Vacationers buy branded goods, clothing, accessories and souvenirs. Local artisans offer blankets and ponchos handmade pottery, souvenirs and decorations of silver, leather, onyx. Small items can be purchased for $ 5-15 apiece.
Cancun
Photo