Season in Cancun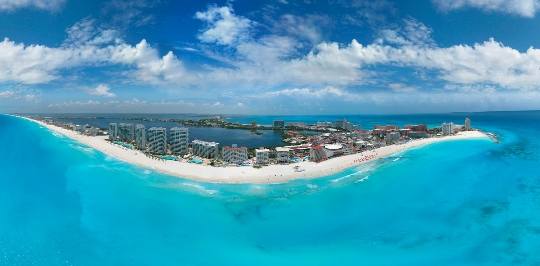 The main attraction of this Mexicanthe resort is that there is no explicit weather seasons, but because vacation in Cancun can be scheduled at any time of the year. The city is located on the Yucatan Peninsula and washed by the waters of the Caribbean. The climate in this part of Mexico is very soft, sea, and fluctuations in temperature ranges from 27 degrees in January to 32 - in July. The water in the sea of ​​Mexico warms up to + 25 degrees, even in the dead of winter and in the summer season in Cancun Caribbean sea and all is like melted turquoise marmalade.
Beach holidays
Major resort hotels are concentrated on the spit,which stretches from north to south for more than twenty kilometers. In its upper part there are the coolest beaches that are not exposed to waves, even during storms. This is due to the proximity of the Island of Women, an employee for the beaches of Cancun kind of breakwater. On the southern part of the spit in the rainy season in Cancun may be present quite "adult" waves, dive into that do not allow any rescue or common sense.
About rains and hurricanes
The rainy season begins in Cancun at the end ofspring. In June falls the first portion of solid precipitation, and vacationers rest occasionally violate night thunderstorms. They bring a pleasant freshness in the morning, and their effects disappear along with the daytime sun. The second series of the weather played in late August and continues until the beginning of November. At this time, there is the highest probability of hurricanes and storm winds. However, the guests Kurota no reason to worry, because the building Hotel Zone so planned and built that strong wind can not cause any harm to her guests.
When to fly to Cancun?
In response to the most frequent question in the gatheringMexico, travel, tour guides and travel guides say the best time for a beach holiday in late winter and early spring. This season in Cancun is characterized most pleasant water temperature and air humidity and relatively low, which allows you to fully enjoy all the delights of the Caribbean, and on returning home boasts a perfect tan.
For those who cross the ocean in the hope not onlylie on the beach, but also to get acquainted with the treasures of the ancient Mayan civilization, this period also fit optimally others. Low humidity and not too eager to roast the maximum daytime temperatures allow to inspect the ancient Indian pyramid with greater comfort.
Photo