Mexico City Airport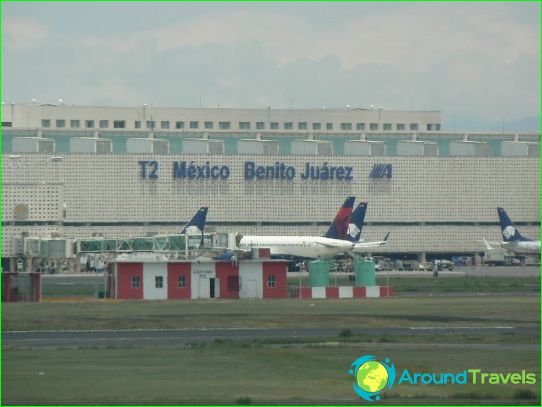 Home Mexico airport is in the capital,Mexico City and called the Benito Juarez Airport (president from 1867 to 1872). The airport is at a sufficiently elevated location - 2230 meters above sea level. In terms of passenger airport ranks second in Latin America, behind Brazil's Sao Paulo airport. In recent years, there have been served about 30 million passengers a year, with a maximum capacity of 32 million. It is worth noting that the airport is almost no room for expansion due to the fact that it is located in a densely populated area of ​​the city.
Airport Benito Juarez has 2 runways, of which the length is 3900 and 3952 meters.
The airport is the main hub for the Mexican airline Aeromexico.
terminals
Airport in Mexico City has 2 terminals.
Terminal 1 was built in 58 of the last century, its area is 542 sq. M. m. It is served by airlines such as Aeromexico, United Airlines, Iberia and others.
Terminal 2 was built in 2007, it replacedthe old terminal, which has a much smaller capacity. This terminal operates flights to countries in Latin America and within the country.
services
Mexico City Airport is trying to provide the most comfortable stay of its passengers by providing the necessary services on the road.
For hungry passengers cafés and restaurants. Also at the terminals there are shops.
In addition it operates bank branches, ATMs, a post office, a mother and child room, luggage storage, etc.
For Business Class passengers have a superior room.
companies are working on the territory of the terminal, with car rental.
Transport
Between the terminals, passengers can getOnly a bus that runs from five in the morning until after midnight. For transit passengers with carry-on luggage, also a monorail connection Aerotren.
From the airport to Mexico City can be reached by bus Metrobus №4. The bus leaves from both terminals and will take passengers to the city center for 30 pesos.
Also near the terminal 1 has a metro station which operates on weekdays from 5 am to midnight. And on weekends - from 6 am to noon on Saturday, and from 7 am until noon on Sunday.
Alternatively, you can take a taxi.
Photos Mexico City Airport