Tours in Mexico City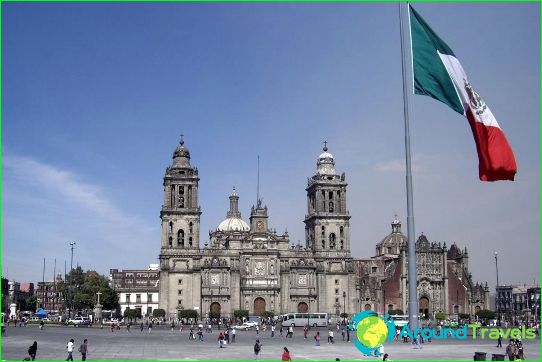 The third largest urban agglomeration and the mostlargest Hispanic city in the world, colorful metropolis with magnificent palaces, huge squares and friendly people - it is the capital of Mexico. There are always welcome, and excursions to the ancient sites - a cherished goal of thousands of travelers. Booking tours in Mexico City, is to be prepared for a storm of unforgettable experiences, which literally descend upon every tourist, descended from the plane at the international airport Benito Juarez.
Briefly about the importance
Mexico Height above sea level exceeds twokm, and therefore had flown here from the cities of the plain at first to get used to some of the peculiarities of the physical condition. In favor of fast acclimatization go healthy restful sleep, a lot of clean water and quality food. During the tour in Mexico is not overwork, especially in the first few days, and try to grasp the immensity. The city is really huge, and therefore it is better to return to the capital of Mexico again.
Particular attention during the tour in Mexico isto give personal safety. An important rule - keep an eye on things and not to carry large sums of money. However, in compliance with the elementary rules of caution, as in any large city in the world, the trip will take place great, but experience only remain positive.
Mexican cuisine - an international concept. Restaurants with national food descendants of the Maya and Aztecs to be found anywhere in the world. But going on a tour in Mexico, it is necessary to be ready for the authenticity of the local cuisine. The authors of the dishes in the restaurants of the town are not used to save pepper and other spices, and therefore should be very hard to clarify the degree of severity of the ordered dishes.
The weather and nature
Because of the relatively high-altitudelocation, average temperatures in the capital of Mexico account for 12 in January and 18 in June. The most rainy season in the summer months. Special features of the city - smog hanging over Mexico year round. Given the mountainous location it can cause problems with the well-being, and therefore before booking tours in Mexico City, it is important to take into account the degree of physical fitness and health.
world-class Attractions
The most important museum of the Mexican capital -National Anthropological. It contains a unique collection, which for many travelers are the main reason for booking tours in Mexico City. Among the most important masterpieces of world history and culture - the Sun Stone or Aztec Calendar, Toltec sculpture from Tula, a giant Olmeca head and plate of burial in the Temple of the inscriptions in Palenque.
Mexico
Photo