Christmas in Mexico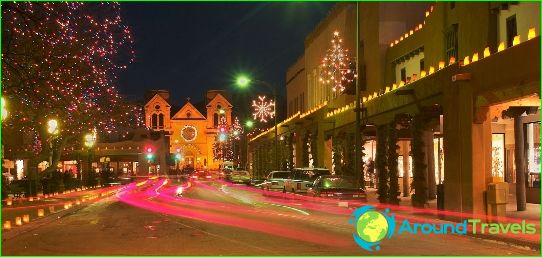 The idea found a favorite winter holiday in anotherHemisphere captivating exoticism and originality, so Christmas in Mexico will be "a great success", no doubt! There are things to see and do, if you will celebrate unbearable: calming spa Magnan can easily be alternated with a tour of the old city, a visit to the prehistoric ruins and trying to catch a wave in the Pacific Ocean. Rest in the winter in Mexico, he is - a varied and very exotic.
"Feliz Navidad!" To everyone
A series of winter holidays in Mexico begins withChristmas. For 16 of December in the towns and villages are organized colorful procession, symbolizing the Holy Family in search of accommodation. But the main action - the church Mass the evening before the holiday. It is called the "cock", because, according to legend, a rooster was the first witness of the Savior's appearance in the world. Then all wish each other "Feliz Navidad!" - Merry Christmas - and leave the table.
Gala Dinner includes nativeMexican dishes and the traditional turkey in other countries. On the tables appear in great abundance anise sweets and Christmas cookies. Christmas in Mexico, especially waiting for the kids: if you can break a Pinata - suspended from the ceiling earthen vessel with candy, sweet is not only the next evening, but the whole year.
With trees and pine trees in tropical latitudes is not easy, andbecause the house is decorated with festive Arbolito - an artificial tree, which serves as a symbol of Christmas in Mexico. All the main square of Mexican cities crowded with wanting to take part in competitions and exhibitions, try the apple punch and tequila, dance and sing to the guitar.
The country of the ancient gods
The main attractions, without whichMexico was not a, there are two. And it's not tequila and cactus, as they can quickly think of gourmets and botany, and beaches and ancient pyramids, as evidenced by the written sources and reviews of admiring tourists. A trip to the pyramids in Teotihuacan will be strong and vivid impression, which persist for much longer than the Mexican tan.
Mexican resorts is particularly comfortable,high level of service, excellent technical equipment of hotels, clean beaches and great food. So choose the place will have a personal preference reasons.
For example, the Riviera Maya loves youth. There round the clock full of life, palm trees sparkling Christmas lights, hotels work on an "all inclusive", and the price at the same time - very democratic.
In short, to arrange a Christmas in Mexicoworth at least to, emerging from turquoise Caribbean melted marmalade, ice drink champagne and toast for luck and love, and without which travel, and life itself seem insipid and boring.
Photos of Christmas in Mexico