Mexico Coast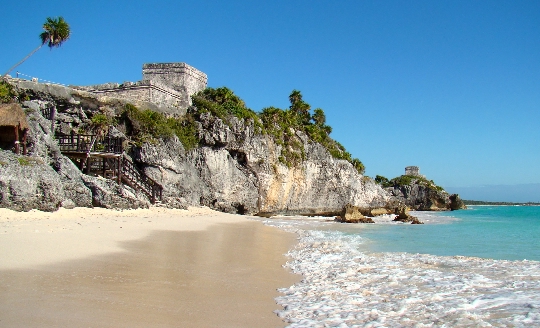 Relax on the coast of Mexico - is diving (there are many underwater caves), surfing, rafting, rock climbing, skydiving, fishing on the Pacific Ocean ...
Mexico resorts on the coast (the benefits of rest)
on the Caribbean coast resorts are famous for beaches,protected by reefs (Cancun), and on the Pacific coast of travelers waiting for hundreds of coves, beaches and good surfing spots. Travelers departing on the Mexican coast resorts will be able to not only relax on the beaches, but also to explore the ancient ruins (Tulum). You should know that it is not dominated by hotels to prohibit unauthorized vacation by the sea (local legislation beaches are owned by the state).
Cities and resorts on the coast of Mexico
Acapulco: guests then visit Aquarium Mundo Marino, Mezcala Museum of Art and the Papagayo National Park with a water park and 3 artificial lakes, visiting the San Diego fort (17th century) and the castle of "Chapel of Peace". For those interested in a beach holiday, it is necessary to advise a trip to the island Rocket (here in search of privacy can be reached by glass bottom boat), the beaches of Playa Caletilla (family vacation) and Puerto Marquez (rest here sportsmen and lovers of active holidays). And if you are in search of thrills, you can be advised to jump into the water from the cliffs of La Quebrada (if you wish you can come here in the evening to look at how klavadistos took torches in hand, exercise extreme jumping).
Cancun: here you can see the ruins of Del Rey, see "Interactive Aquarium", a water park "Wet'n Wild" (here it is possible to drive a bumper boats, a fancy to such attractions as the "Bubble Space Bowl", "Twister", "Kamikaze"), amusement park "Selvatica" (here guests are offered to move out in the karst lake bungee, walk on the suspension bridge over the jungle, ride off-road buggy), the beaches of Playa Marlin (not strong throughout, clean water, gentle waves, and even then lay eggs large turtle ) and Playa Delfines (the beach is equipped with free parking, showers, observation platform, but due to the strong surf is not recommended to swim a long distance, but this circumstance appreciate surfers and want to run a kite), swim with turtles in the reserve Shel -Ha.
Puerto Vallarta: here you can see the church of the Virgin of Guadalupe, relax on the beaches Playade Oro Beach (water-skiing, sailing), Los Muertos Beach (here engaged in beach and water sports, and in addition, this beach serves as a point of arrival and departure of water taxis) Las Gemelas Beach (kayaking, scuba diving, climbing on the rocks).
In Mexico, offers magnificent beaches, interesting architecture, culture and history.
Photo