Traditional cuisine of Mexico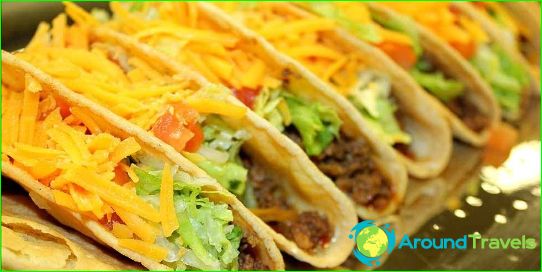 Dining in Mexico presented a rather spicy dishes (for their cooking use a lot of spices), are not characterized by low calorie.
Arriving in Mexico, you surely will impress local dishes, which, depending on the visit to the region, you will notice the presence of Spanish, Indian and Caribbean traditions of cooking.
Food in Mexico
For Mexican food is characterized by the presence of chilli, cumin, oregano, spicy dressings and sauces. Diet Mexicans make up the vegetables, beans, liquid and dry soups, meat, fish, seafood.
It is worth noting that Mexicans are not used tospoons of food consumption - for this purpose they used tortillas Tortilla: they they scoop up sauces and eat their meal at the end of "spoon". Furthermore, these cakes act as tasty snacks - they are wrapped corn, cheese, avocado, minced meat, tomatoes, beans or other fillings.
If you come to Mexico, be sure to tryscones, which are usually wrapped meat filling (burrito); pork, deep fried (carnitas); pork or chicken broth with the addition of spices, herbs and corn (pozole); corn chips with green tomato sauce (chilaquiles); goat or lamb, cooked with the leaves of agave (barbacoa).
Where to eat in Mexico? At your service:
cafes and restaurants where you can enjoy Mexican and European cuisine;
Snack bars, cafes;
fast-food restaurants.
Drink in Mexico
Popular Mexican drinks - coffee, hotchocolate, soothing herbal teas, juices, SANGRITA (a drink made from orange and tomato juice with marinade of jalapeno peppers), beer, wine, tequila, Kahlua (Mexican coffee liqueur), mezcal and pulque (alcoholic beverages based on agave).
Fans will be able to try the tequila in Mexico more than 300 kinds of liquor: it is necessary to try brands such as Joven, Blanco, Anejo, Reposado.
If you love beer, you should pay attention to the following varieties: Superior, Pacifico, Corona, Dos Equis (often a light Mexican beer served with salt and lime).
Gastronomic Tour in Mexico
If you go on a gastronomic tour "TasteMexico ', you will visit the Mexican house, the owner of which - the famous chef of Mexico she will talk about Mexican cuisine features, will teach you to cook tortillas, various sauces, tamales and other dishes In addition to tasting the prepared dishes, you can sample different varieties of tequila (. to taste the tequila, you can visit the Museum of tequila).
If desired, you can arrange a tour of the Yucatan Mayan village, where you will learn to cook tortillas in the traditional Mexican bakery.
If your dream - to go to present an exotic journey, go to Mexico - a country that is rich in sun and a variety of gastronomic delights.
Photos national dishes of Mexico