Mexican Dishes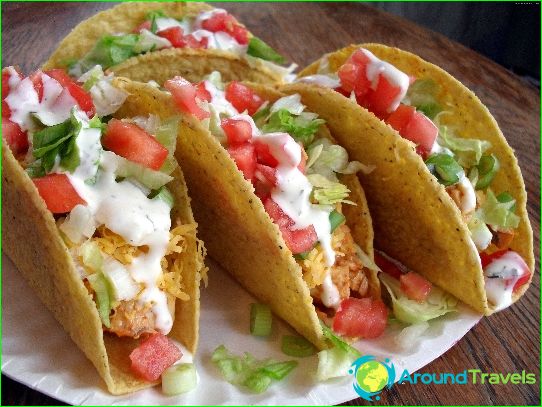 Mexico is home to the spicy dishes. Its culinary traditions have gained popularity in other countries. The national dish of Mexico is required to include components such as chili peppers, beans and corn tortillas (tortilla).
Specificity of the kitchen
Almost all popular Mexican mealstable are fresh tortillas made from corn flour with different fillings. These include tacos, kesadilyas, nachos, tostados and others. As the fillings used ground beef, corn, tomatoes, cheese, peppers, beans. The country has a variety of popular soups with legumes, seafood, spices. Many dishes are prepared with Mexican antiquity. Recipes of cooking preserve their identity. Kitchen origins lie in the tradition of the Spanish and the Aztecs. The nature of this country opens up endless opportunities for cooks. Here there are all kinds of spicy plants and spices. Therefore, one and the same dish can have different taste. National symbol table appears burning jalapeno pepper. Despite the fact that he is very popular among Mexicans, some dishes do without it. Cooks prepare mixed vegetables with sweet and delicate flavor.
Recipe Mexican cuisine is considered to be the world'sproperty and included in the UNESCO list. Traditional dishes made from vegetables, legumes, cereals, cheese, seafood, meat and eggs. From meat Mexicans prefer pork, beef, chicken and game. The most popular condiment serves hot pepper chili. It is added to almost all dishes. Many sauces made with this pepper. From sauces widespread salsa, guacamole, Chaiya and others. They are served with fish, meat, poultry, eggs and other foods.
Most popular dishes
The main dish is a Mexican cuisinetortilla. It is a thin pancake made from wheat or corn flour, seasoned with spices. Eat tortillas, as a separate dish, and served to other foods. Tortilla roll a burrito with toppings designated. The traditional dish of the country considered to be stuffed leaves corncobs with minced meat. Tortilla in a tube filled with meat, tomato and cheese - a popular enchiladas. The whole world is well known Mexican dish quesadilla. It is made of tortillas, stuffed with meat, fried cheese, mushrooms and vegetables. From tortillas also make soup with chicken broth. It is used with the grated cheese. Many dishes of Mexico made only from fruits and vegetables. Cooks use beans, peppers, avocados, tomatoes, corn, cactus. Therefore, the kitchen of the country prefer vegetarians. Spicy sauces and spicy sauces do not allow bored even those who are sitting on a vegetable diet. National drinks in the country are cocoa and hot chocolate. Traditional alcoholic drink - tequila.
Photo