Holidays in Mexico in November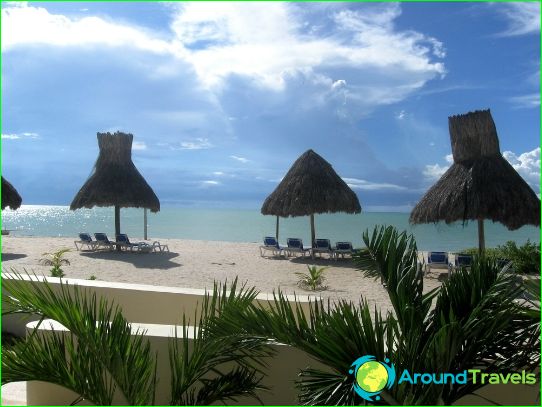 November - is the beginning of a favorable time forholiday in Mexico, because it is necessary for this month the completion of the rainy season and cyclones. The temperature in Mexico City is + 22C, and in the other regions (Cancun, Puerto Vallarta, Acapulco) + 28-29C. However, the evening should wear warm clothes, because the temperature drops to + 18-22C, and in Mexico City - up to + 8C. The water warms up to + 25-26C.
humidity level begins to respondnormal parameters, so many people note improvement in their health. However, in November, a few days can be marked with small showers at night. In the Yucatan there is a risk the arrival of the hurricane. Despite the likelihood of rain or the beginning of the hurricane, the rest can be charming. Just imagine: a comfortable temperature, ultraviolet light without excessive aggressiveness. However, tourists, surfing, should use sunscreen, which will be able to eliminate all of the risks of sun exposure. When planning a vacation, it should be remembered that from 16.00 begins to get dark.
How to spend your holiday in Mexico
Leisure. Mexico's resorts attract many surfers, lovers of this pastime should visit Cancun, Acapulco. These regions are ideally suited for handlers waves. If you want to get acquainted with the amazing underwater world, visit the lagoons of Puerto Vallarta.
Excursion programs. Mexico attracts so many people with their sights. Special attention deserve the Pyramid of the Moon and the Sun in Teotikuane, a monument to the ancient civilizations of Chichen Itza in Yucatan. If you are interesting buildings preserved from the time of Maya, visit the Palenque. Interest cause settlement Tulum, Uxmal, Ek Balam, Monte Alban and Coba. In the capital - Mexico City - located areas of the archaeological site, dozens of parks, more than fifty of the Museum Center.
Holidays and festivals.In November, in Mexico celebrate many holidays: All Saints Day, All Souls' Day, Day of Juana Ines de la Cruz, anniversary of the 1910 revolution. At the end of November accounted Day Mexican musicians, after which held mass celebrations, performances in mariachi suits. The attention of tourists deserve International Festival of Ballooning. You may have timed his trip to one of the large-scale events?
Enjoy all the pleasures of vacation in Mexico in November!
Photos vacation in Mexico