Holidays in Mexico in September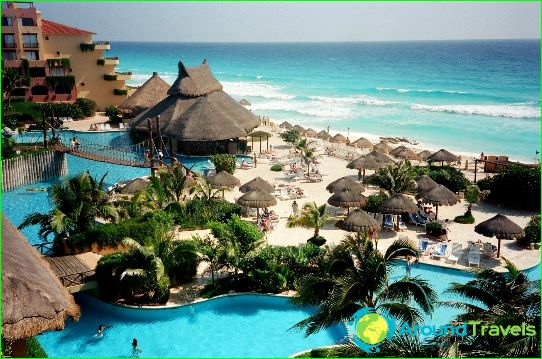 Is the best month in September to travel to Mexico? What weather conditions should be calculated?
Weather in Mexico in September
Mexico's climate is varied, soit is important to determine the place of rest and carefully read the weather forecast. In one part of the state can be a pleasant, sunny weather, and at a distance of 200 kilometers - rainy.
The average temperature ranges from +20 to30 degrees, as it depends on the region. In Acapulco, the air warms up to + 32C, and in Mexico City - up to + 23C. In Cancun in September can be + 27C. You should be prepared for the fact that the often rainy days in September. As you know, Mexico is exposed to storms and hurricanes. Thus it is impossible to believe that September will be the exception. However, if you plan to relax in Acapulco, you can tune in to the pleasant weather.
Holidays and festivals in Mexico in September
Holidays in Mexico in September - this is an opportunity to go on a public holiday and entertainment festival. So, what activities do leisure interests?
From 16 to 22 September in the Yucatan is held annuallyInternational Festival Filmaya, which focuses on the multifaceted culture of the Maya. Events unfolding in the administrative center of Merida and several other cities. Anyone can learn the natural features of the region, where the Maya lived before, to see religious sites and residential buildings, to visit the exhibitions of costumes. The festival decided to conduct sightseeing tours of Yucatan, museum centers and archaeological sites, organize performances by folk groups. Pastime can be rich and interesting.
September 16 is traditionally celebrated in Mexico the Dayindependence. People are trying to celebrate in a big way. It is important to note that the official part of the celebrations and congratulations made to start on 15 September. In our time, in the night from 15 to 16 September the areas of Mexico city held repose, which reflect the history of the struggle of the Mexican people for the state to be recognized as independent. On the main square Mexicans come dressed in national costumes, photographers offer their services, mariachis sing funny songs. The climax becomes a moment when people shout "Viva Mexico" and organized fireworks.
Visit to Mexico in September in order to enjoy the pleasant weather, long walks and cultural activities!
Photos vacation in Mexico