Cruises to Scandinavia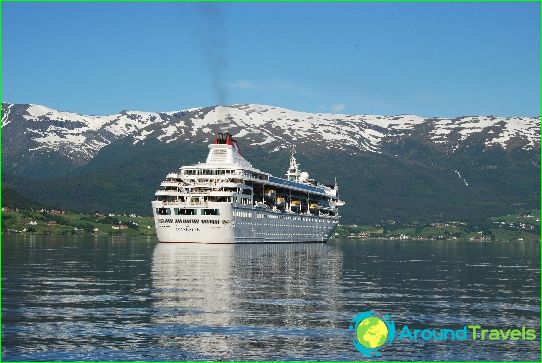 The popularity of this tourist destinationexplained very simply: the start location can be located directly in Russia, the tour price differs from the price nice transatlantic voyages over long distances, and the choice of travel program and its duration is very diverse. Short cruises to Scandinavia - a good chance to get acquainted with a whole constellation of interesting countries and stroll through the beautiful European capitals.
overlooking Cabin
You should not fear that the traditional cruisesScandinavia forced the traveler to sacrifice the usual hotel services in favor of exploring the unknown. Liners and ferries, which are made cruises are equipped with not only the most necessary household amenities, but also claim to be luxury vehicles and places of residence.
Modern cruise ships - an opportunityselection of both the budget cabins and luxury apartments. Regardless of the price for accommodation, a room will have a bathroom, air conditioning and TV, and on board there are certainly a wide variety of opportunities for entertainment. In between your sightseeing tours can not only swim in the pool or get pleasure serving in the jacuzzi, and enjoy a game of tennis or to pump up the muscles in the gym. Those who wish to pull the tail of luck given the opportunity to buy chips in the casino, and lovers romantic meeting - to take place for two to the last row of the cinema on a cruise ship.
Constellation northern beauty
The capitals of the countries participating in the excursionprogram of cruises in Scandinavia, not in vain on the list of the most beautiful European cities. Historic attractions and a variety of entertainment venues, museums and architectural masterpieces with famous world-class exhibits - all available cruises participants in each city on the route.
And cruises in Scandinavia - a unique natural monuments, for the sake of love which should not be afraid nor seasickness, nor storm, nor the salt spray on my lips:
Fjords of Norway, the most famous of which is called Sognefjord. It stretches more than 200 kilometers, and the height of the cliffs, its generators, sometimes exceeding 1300 meters.
Majestic waterfalls of Ireland, affectingits beauty even seasoned travelers. Among the bicentennial of beeches, oaks and larches looks particularly colorful 120-meter-high flow Dargle River, called Powerscourt.
Scottish lakes, among them the famous Loch Ness with the monster real or invented in the bottomless depths.
Photo cruises in Scandinavia